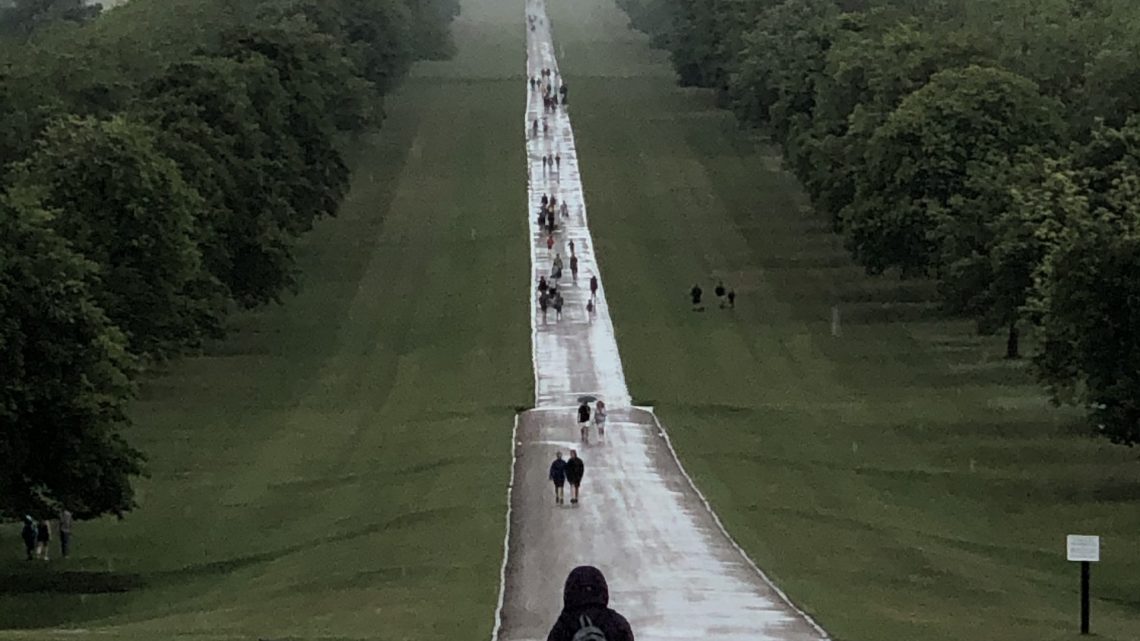 The Hike
A gentle stroll in the park. Well, actually a pretty long stroll for a 4-year old who did remarkably well – all things considered.
We planted the idea a few weeks ago. I can't remember what got us talking about it but I mentioned how much I loved walking in hills and mountains. I guess it's all come on the back of how many short (or increasingly long) walks we've taken in the local area and how much Piglet's stamina has built up. At the beginning of lockdown he probably wanted to be carried for sections if we walked much further than a mile whereas now he will quite happily saunter around on a 5k walk from our house.
A particular milestone has been the distances he can cover on his bike. Almost accidentally I ended up taking him on a 13km bike ride the other day. He loved every minute of it and I even forgot to take any snacks with us. He very much decided that his 4th birthday was time to progress up to his 'big bike', i.e. a full bike with pedals (and no stabilisers) from his balance bike which he loves so much but is clearly a little big for now. His sheer joy of cycling, now that he's got his head around the pedalling, has seen us crank up the miles very quickly and the physicality and stamina that has come with that has just flowed out into everything else that he does. Walks, morning exercise routines, yoga, headless-chicken-football… all done with far more energy than a few months ago.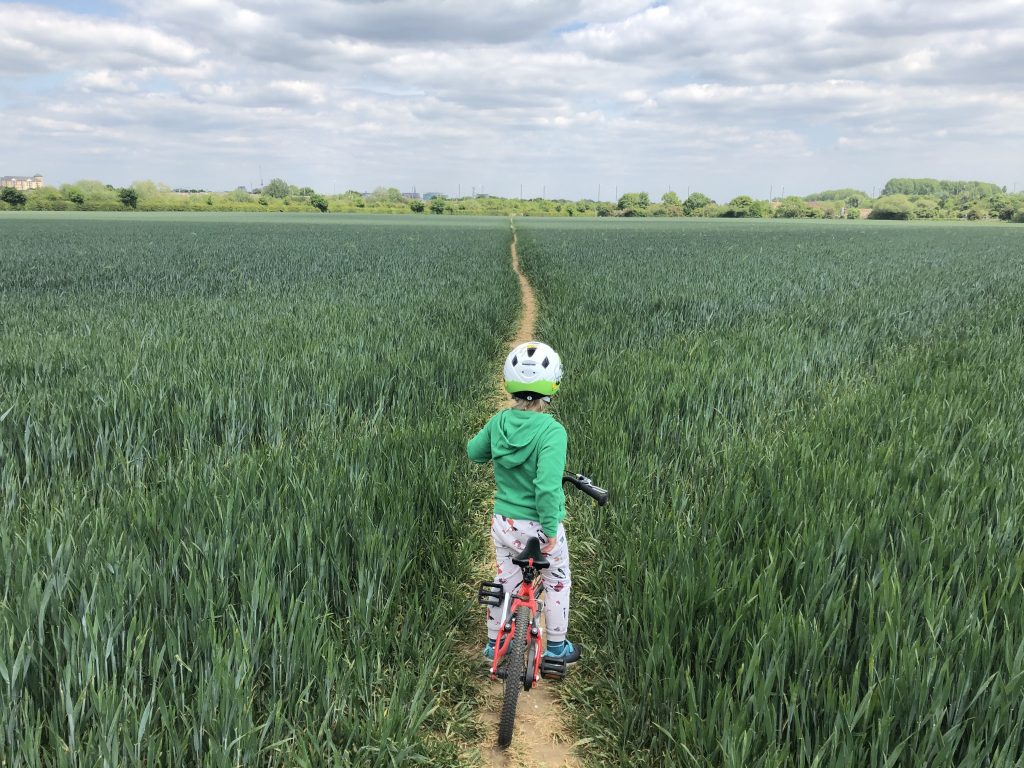 We cooked a couple of bits the night before and sacrificed our Sunday morning tradition of buckwheat and gram flour pancakes to make an early get away. In truth, we didn't leave the house until 10:30 but that was as much to do with me getting distracted as anything else. We loaded three rucksacks with jumpers, waterproofs, water, snacks, binoculars (because obviously…) and three carefully constructed lunch bento boxes. We love our Yumbox bento boxes and its been a while since we've had an excuse to use them but they work so well for us in creating interesting, fresh lunches that all of us can enjoy. You can see the range here, but there are UK shippers like Amazon or EatWell for sales.
For lunch on the hike we opted for lightly seasoned couscous (wheat for Piglet and myself and corn couscous for my wife to be gluten free) with cucumber and tomato, a sliced pork sausage (deliberately left over from bangers and mash the night before), a couple of turkey meatloaf bites (a fantastic flavourful cheap lunch), some crudités (carrots, radish, pepper) and a roasted aubergine dip.
We headed out from our house fully laden with all the kit, Piglet opting to have his binoculars (a recent birthday present) out from the start. It only took us to get to the end of our road for me to realise that I'd forgotten to pack my wife's and Piglet's jumpers. My wife kindly opted to head back and pick them up while I sorted out Piglet's coat. Piglet was surprisingly excited and that lasted unabated for the first few kilometres even though we were walking the river route we've covered many times before. When we got into Windsor, we opted to make use of the very few open public restrooms. Unfortunately, what we hadn't considered was that, being the only ones open on a weekend day when Windsor was starting to open up again, they were pretty busy. We ended up queueing for 40 minutes by which point we weren't really left with any other options.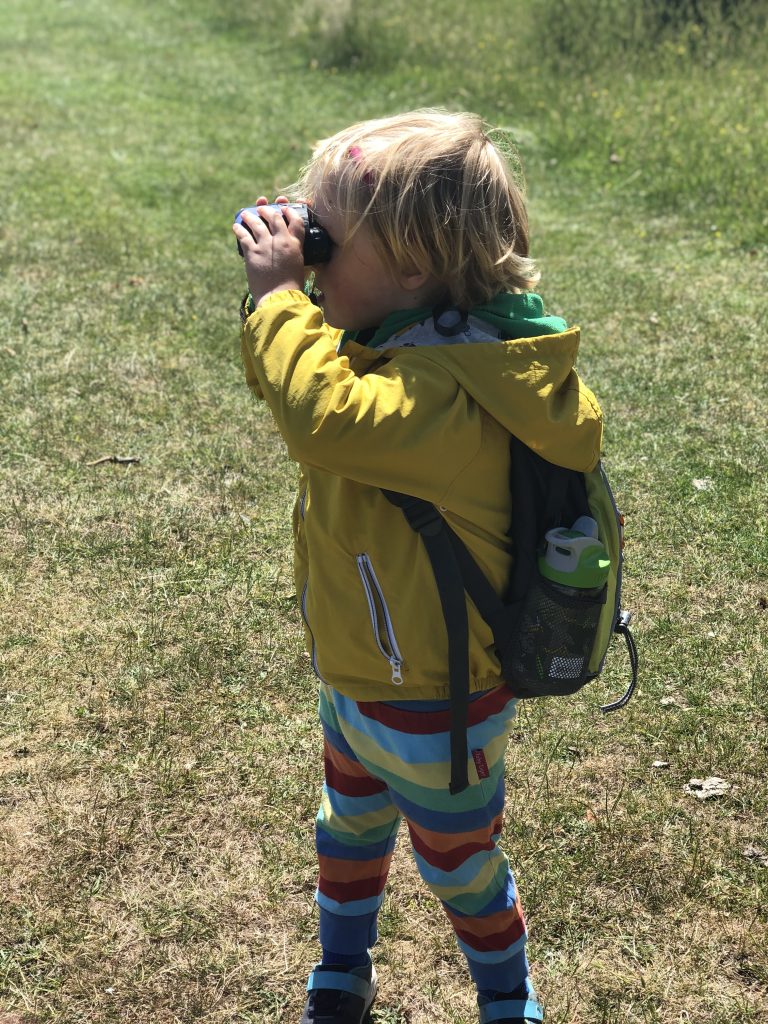 Significantly closer to lunch than we had planned to be, we headed through Windsor and out the other side onto the Long Walk which stretches out majestically from the Queen's own drive up to the front of Windsor castle. The arrow-like straight path heads straight into the heart of Windsor Great Park directly to the foot of the Copper Horse statue of King George III, erected in 1831. It's both intimidating in its length and inspiring in its draw to make you want to get to the other end.
We made a point to get a decent distance down the walk before stopping for lunch, stopping for a quick snack to help us press on further. Our hope being that we could get all the way to the horse before turning back but knowing that leaving too much to the afternoon stint would make it really tough for Piglet. In the end, he started to flag a little and we realised that he might stop enjoying it if we didn't eat soon.
I put him on my shoulders and carried him to the side of the path. We sat down on our coats to avoid getting damp and got out our specially prepared bento box lunches. We also got out our bottles of water and Piglet and I shared a packet of his veggie straws. Piglet eats with all the enthusiasm of someone who has never had to make the good stuff last, diving straight into his sausages with no thought to spread them out with the rest… Not long after we start eating it starts raining. Not heavy but wet enough to not want to sit with an open lunchbox. For a moment I suggest just packing up and walking until it stops but I'm persuaded to cover under a nearby tree which turns out to be the right call as its dry there and the rain doesn't last long. Everyone eats nearly everything they can get out of the corners of the bento box compartments and we pack up and start walking again. Piglet, to my relief, is fully recharged and raring to go again.
It doesn't take too long to get to the copper horse and the vision of it becoming clearer in the distance works as quite a powerful motivator for the three of us. Piglet is pretty much running to get up the final hill by the time we get there and, amazing, he suddenly remembers that he had been there over a year ago on a walk and recalls a very specific memory of roleplaying a house in the rocks around the base of the statue. He's gutted that a family is already there and I try to explain that we don't have 'dibs' on it.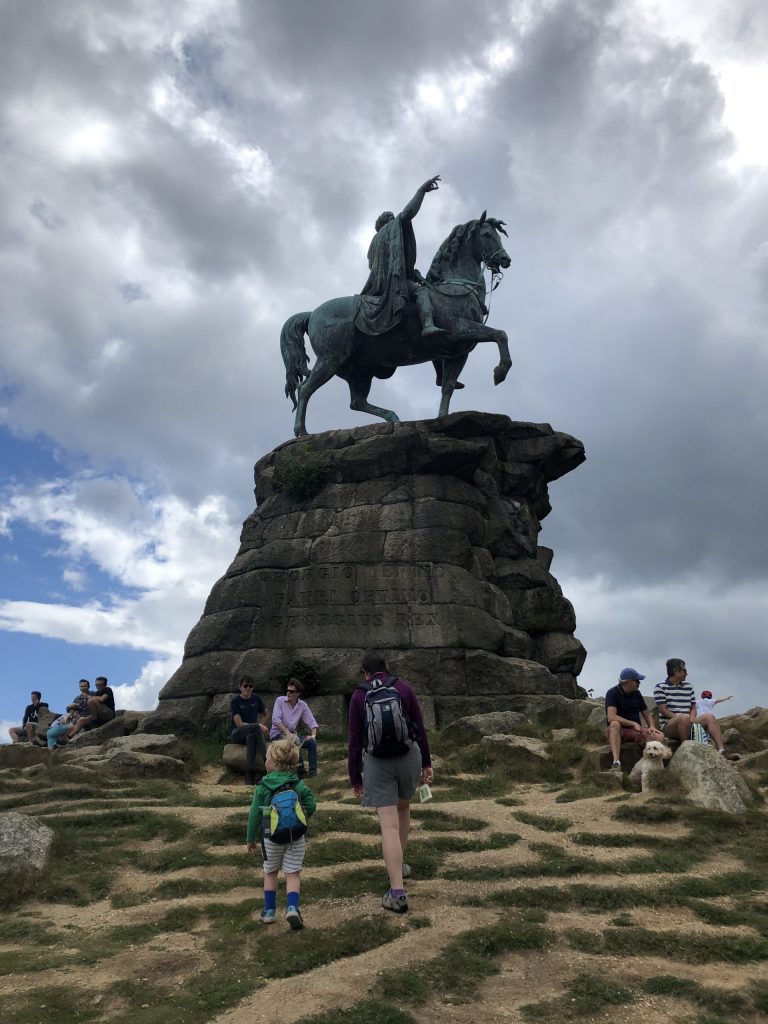 Once again the weather attempts to foil us but we run giggling to the trees again as the rain comes down, harder this time. Piglet has taken an absolute pleasure in being out in the rain since we had a barbecue one even that turned into a warm summer's evening thunderstorm. We were sat under a parasol when it started and hoped it would pass but in the end we were stranded in torrential rain and could only laugh it off to stop Piglet sensing any worry/stress. He thought it was the best thing ever!
A expertly packed thermos of tea warms us up as we cower in the shade from the rain before deciding to just start heading back in the rain as it eases slightly. The views back to Windsor with the oppressive sky hanging over it make quite the spectacle but the sun is out again within minutes, such is the English summer.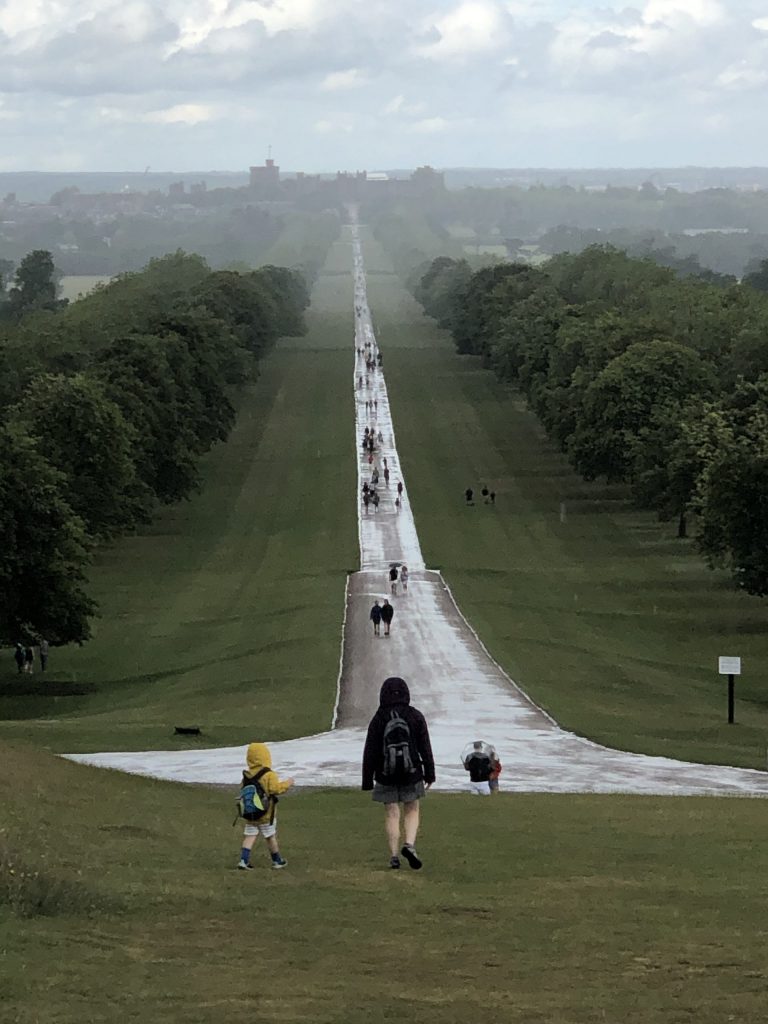 We make pretty good progress on the way back although it's clear that Piglet is flagging a bit. We stop for a decent snack stop halfway back down the long mile. Piglet gets to finish his couscous and we try and wring out his wet socks (we did try to explain that his trainers weren't best set up to cope with the puddles he jumped at within a few steps into the walk). We come up with a couple of games to try and keep the motivation up and this works in waves. My favourite is trying to name characters/animals from either Harry Potter or Narnia (the two big book series he's really enjoying at the moment). We then realise that we can name about 60+ characters from Harry Potter alone which I was pretty chuffed with.
We make up a story about the Queen looking out at us from her window in Windsor castle and waving that keeps Piglet fully engaged for at least a few miles. Skirting round the castle is full of plenty of distractions and before we know it we're back on our side of the river. To be fair, Piglet is struggling a bit by this point and we worry that he's shoes might be rubbing. We try and place a few preventative plasters on his supposedly sore foot, although there's nothing to be seen. Despite his protests, he's clearly loving the walk and his spirits are high despite anything.
As we get within the final mile of home my wife picks up Piglet and carries him in her arms which he accepts gratefully. I take over after a while and put him on my shoulders. He holds on tight and decides that the best way to get comfortable is to push down hard on the top of my head. I lie down on the ground to 'realign' my spine as we get through the front door. Piglet is exhausted but very, very happy with what we've managed to do and clearly laps up our praise of what he's managed to achieved. For days he talks about how he wants to go on another hike and we make loose plans to do it again.
I think we might head further afield for the next one… Lake District here we come… …one day.
Toodlepips x