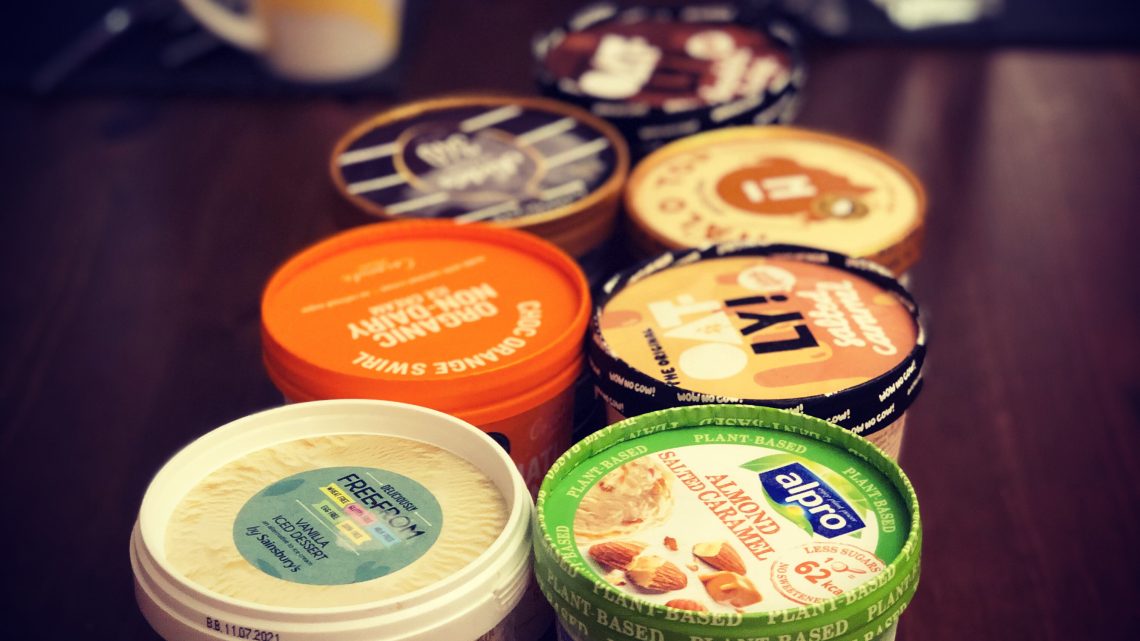 First Podcast!
This has been coming for some time, but I'm very excited to finally share this. I've had the idea for a little while: review a load of vegan ice creams, review them with my best friend, record the whole debacle and upload it as a podcast. Well I've (we've) done it! Allergen dad's podcast series (yes I'm going to bold enough to suggest there will be more than one!): "Free From Humour" is now active and should be available from all good podcast distributors (Spotify, Apple Podcasts etc…) over the coming days.
I really enjoyed the process and I have a new appreciation for the podcast medium. It allows a freedom than I'm not sure you could get away with via a video blog or just plain text. I'm pretty pleased with the first effort. It's deliberately meandering and there are probably more time efficient ways of reviewing ice cream, but I hope you'll have a listen and let me know what you think. I've learnt a few valuable lessons: the levels needed to be a bit higher for the first section and it's probably better to move a little bit further away from the microphone when you take a big satisfying slurp from the spoon (sorry!!). But actually, I'm really pleased at the overall product and tone of the effort; even my scratchy guitar playing at the beginning!
For those of you who don't want to waste 1 hour and 20 minutes or would at least like to know a bit about what we talk about first before making such a commitment: I'll touch upon a synopsis in this blog post. My best friend and I tackled 7 vegan ice creams in order to give you, my esteemed reader/listener, an easy head start to making the right dessert decisions in the (highly variable) world of milk-substitute ice creams. We reviewed the following brand/flavour combinations:
Oatly Chocolate Fudge
Oatly Salted Caramel
Jude's Vegan Chocolate
Sainsbury's Free From vanilla desert
Coconut's Organic Choc Orange Swirl
Alpro Almond Salted Caramel
Halo Top Dairy Free Sea Salt Caramel
We also gave an honorary mention to Booja Booja ice cream which we both know we already knew we loved but could get our hands on for the review.
We learnt a few things from the review:
It turns out that neither of us really like chocolate ice cream and as such, buying 3 tubs of the stuff was a mistake
Alan gets particularly upset if the description of the ice cream doesn't match the product to his standards
Camembert is the opposite of ice cream, if ever that question needed answering
We both really like Oatly Salted Caramel ice cream
We really didn't like Halo Top (and a subsequent Google of other people's reviews of the product appears to reaffirm that we aren't the only ones with that view!
Seven tubs of ice cream is too many – our intellectual functions had deserted us by the end to a swirl of glucose infused blood supply.
There was also a fairly large amount of unspecified giggling on my part but I don't think I can condense that down to any particular bullet point.
Please do give the podcast a listen and consider subscribing to them in your podcast service if you like it. I definitely aim to do more although on what subject and how often I'm yet to decide.
If all technological functions work correctly – you should be able to listen to the episode in this box below:
Do let me know what you think – even if only to advise me never to do one again! Also let me know if you have any ideas for future ones. I've already got a mental list of people I'd like to interview and future products I'd like to review.
Toodlepips x