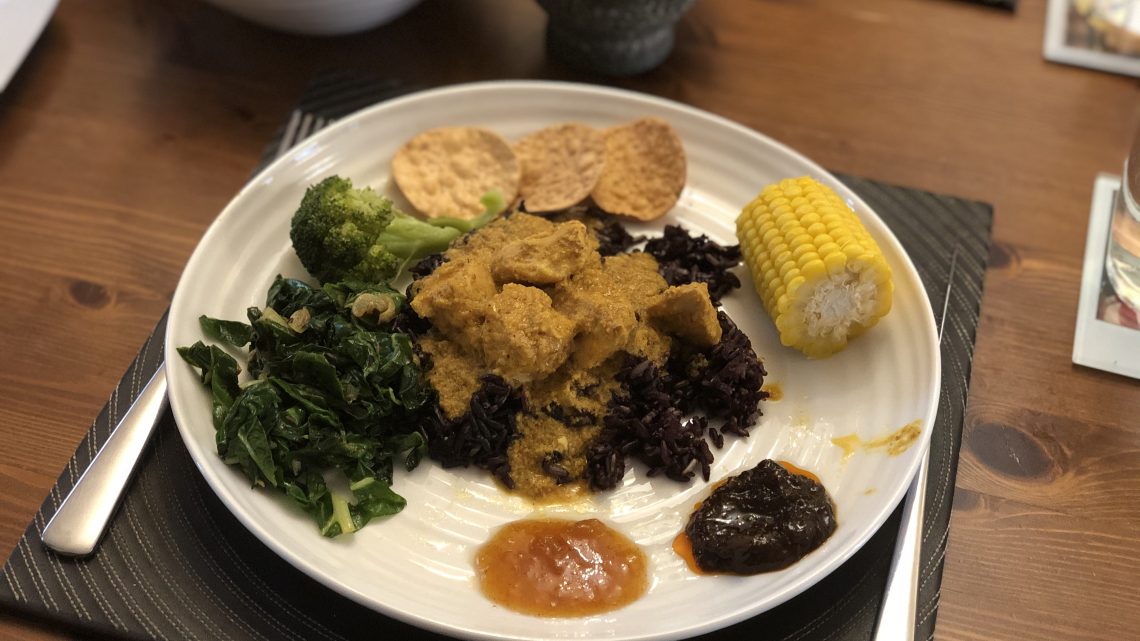 Oh for the joy of a curry
Spice. Aromatics. Chillies. Poppadoms. Chutneys. These are a few of my favourite things…
From as soon as I learnt to cook, and definitely by the time I was fully self-sufficient at university, I have adored cooking (admittedly heavily anglicised) Indian food. In fact, it was a chicken curry bought from a local takeaway back in Oxford, by my first serious girlfriend, that tempted me away from the vegetarianism I had stuck to for the first 17 or so years of my life. By the time I was at University, there was a wonderful shop called Rafi's Spice Box up in York (please do visit the link here, they're amazing!) that would sell freshly made spice mixes for you to cook from. These were so amazing that I think they were what I treated a later girlfriend to as a celebration of our 6-month anniversary. I'll let you be the judge of how good they are but that woman is now my wife of 7+ years and the mother to our most amazing son. Just saying…
I have gone through various food and drink fads and bought into various passing temptations over the year. Everyone had a toastier maker for a while, right? Everyone tried to collate together a big enough variety of alcoholic spirits to be able to make cocktails on demand, yeah? I'm not even going to talk about how much I miss our bread maker! But the desire to have a well stocked spice cupboard has never fallen out of fashion in this house, nor never ceased to be used regularly. It's a cause of much frustration as there are so many precariously stacked spice jars, things invariably fall out and break! I love going as far back to basics with spices as I can. I have destroyed so many pestle and mortar sets it unbelievable. But we always have in the necessary pantry items to fashion a curry at very little notice and, if I'm pressed, it may be the only reason my wife still stays with me! Granted I am prone to experimenting a little bit too much and occasionally I slip into the mistake of making a generic curry with a bit of everything rather than sticking to one particular recipe – and you can over do it I have learnt.
These days, having a little one certainly tempers the spicier end of the range of curries we used to make and that my wife, in particular, used to enjoy. Piglet will tolerate a bit of spice, enough to send him gasping for his water and still dig back in but it's a fine line. I once cooked something that turned out to be much more spicy than I'd realised and he started eating before we'd really had a taste. I'm pretty sure he was crying but loved it too much to stop eating (#parentingfail).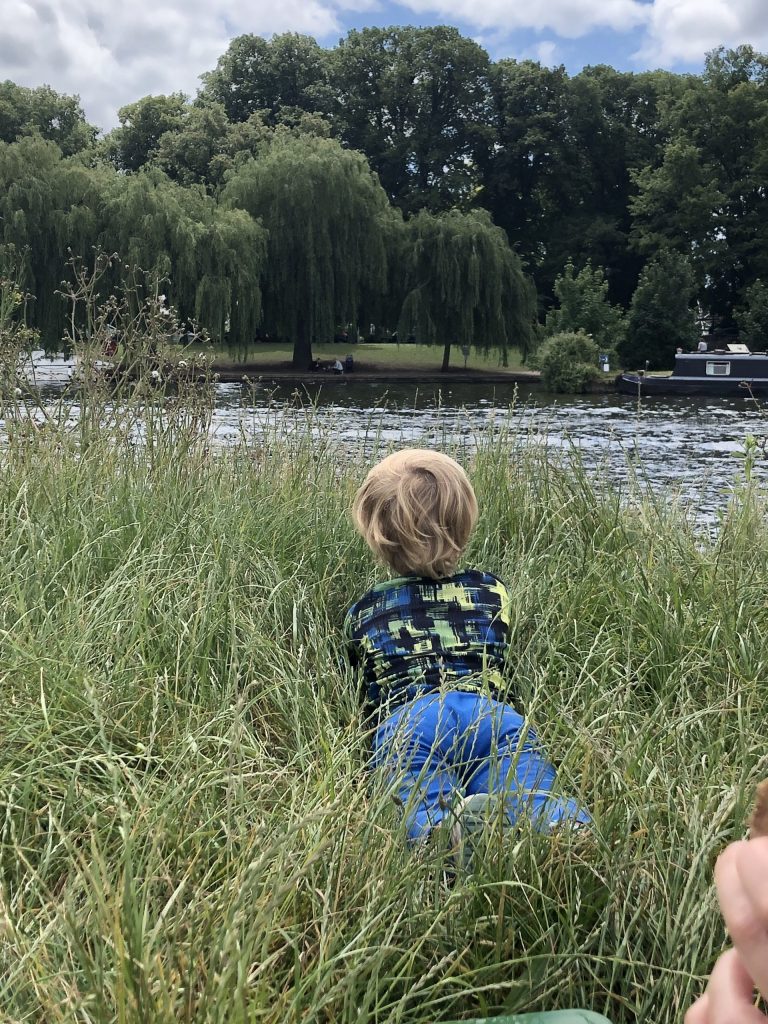 We have, however, found a few nice recipes for milder curries that we can all enjoy. A favourite for a good few years now has been a slow-cooker chicken korma that we can make pretty easily and satisfies both junior and (shall we say) more senior taste buds. This came from the baby-led-weaning app that we used a lot in the first few years of Piglet's eating. You basically bung all the ingredients in the slow cooker just to eat it 8 hours later and freeze the rest for multiple other nights… However, to make it dairy free, we need to use a fairly specific pre-made korma sauce. We'd found a free-from one made by Meridian (the peanut butter people) which our local Sainsbury's stocked and worked really well. Unfortunately they've stoped stocking it and we can't really find an easy alternative.
So last night I tried to make it from scratch. We have most of the ingredients anyway in our precarious spice cupboard. I found a recipe on thehappyfoodie.co.uk/ that looked like a nice recipe for a korma from first principles but used cream, so I've edited it slightly. Also I cooked it in the slow cooker so I used the curry paste steps and then free-styled from there… The end result was fantastic. Three very happy faces with my son asking for seconds and scraping the sauce and rice up from his plate with a spoon. It's very much a meat and sauce style curry so we served it with a load of veg options but this makes it easier to freeze the base and add fresh extras each time.
To be fair, one of the reasons Piglet ate so eagerly this evening was that we had just completed a 12+km bike ride with daddy forgetting to take any sustaining snacks with us (we had water but it's hardly a glucose hit). We'd only meant to time ourselves cycling to his school, into which he is meant to start this September!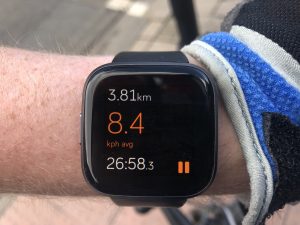 This little superman was full of energy the whole way round but his eye lids were drooping as he helped himself to seconds and then his favourite pudding (coconut 'yoghurt' with honey, granola, and roasted nuts).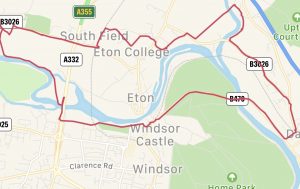 If you've got any interest to try the curry yourself, particularly if you find it hard to get decent ones that are guaranteed to be milk-free, here are the ingredients and method I used/stole from thehappyfoodie.co.uk:
Ingredients:
4 chicken breasts (about 600g)
5 garlic cloves
1 inch of fresh ginger (I've never understood why ginger is only measured in one dimension?!)
A small block of fresh turmeric (1x1x1cm?) – use 1tsp of turmeric power or leave completely if easier
50g of flaked almonds
5tbsp of olive oil
2 bay leaves (fresh from the bay tree in our garden, the only thing that seems to grow healthily!)
8 cardamon pods (green)
4 cloves
1 stick of cinnamon (I didn't actually have this but would add it next time)
1 onion
1 tbsp ground cumin
1 tbsp ground coriander
1/2 tsp of cayenne pepper
1 tbsp of tomato puree
1 tsp of rock salt
1 can of full fat coconut milk (400ml)
1/2 tbsp garam masala
Instructions
Dice the chicken breasts into inch by inch cubes (large bitesize pieces) on a meat chopping board and layer across the bottom of the slow cooker dish
Put the raw meat utensils to the side/wash and start afresh with a clean board and knife for preparing the rest
If using whole cumin and coriander seeds, grind these now. I love the aromatics you get from freshly ground spices but it's not necessary
Roughly chop the garlic, ginger, turmeric
Dice the onion finely
Put the garlic, ginger, turmeric, flaked almonds and 6 tbsp of cold water into a blender and blend until smooth
Put all of the oil into a large frying pan and heat until hot/smoking
Quickly fry the whole spices (bay leaves, cardamon pods, cloves and cinnamon stick for 10 or so seconds) [Dry the bay leaves well if you don't want it to spit violently]
Add the onion to the frying pan and stir regularly until it browns
Reduce the heat and add the blended spices and the ground cumin, coriander and cayenne powder.
Stir regularly for about 5 minutes and then add the tomato puree.
Once the tomato puree is mixed in and starting to darken (a minute or so) add the salt, coconut milk and garam masala
Bring to a simmer and then pour over the chicken in the slow cooker dish (if preparing the night before to cook on the slow cooker the next day, you might want to let the mix cool before you combine and keep in the fridge overnight). No need to stir, you want the chicken under the sauce.
Put on the slow cooker on a 'low' setting for about 7 hours until the chicken is cooked and tender
Remove the whole spices before serving (particularly if trying to keep little ones on side). In general they float to the top anyway but its worth remembering how many of each you're looking for
Serve with rice, poppadoms, chutneys and whatever veg you've got
Hopefully you'll agree that the end result is deliciously spiced without being too spicy for even the littlest members of the family (or my friend Steve).
If you're feeding really little ones (for whom chopping or even chewing chunks of chicken are a challenge) you could just trim the chicken breasts and cook them whole under the sauce. After about 8 hours in the slow cooker on low, you should be able to just shred the chicken with a couple of forks – just remember to remove the whole spices first! This is definitely still suitable for the whole family, rather than being specifically for little ones. We still eat a shredded slow-cooker peanut butter chicken dish that we've been making for years!
Also the sauce is completely vegan so you could substitute the meat if you wanted to keep it vegetarian/vegan. New potatoes and aubergine would work wonderfully in the sauce instead.
In terms of veg, we've been absolutely loving our recent veg boxes from Riverford in the last few weeks and a lot of these have become side dishes for meals like this. In the photo at the top/bottom, we simple steamed some corn on the cob for 11 minutes, steamed some broccoli for 7 minutes. A little more love and care went into the curried greens that I was particularly proud of. For these I used:
1/2 inch of one-dimensional ginger (finely chopped)
1 red chilli (sliced into rings with the seeds kept)
3 garlic cloves (finely chopped)
1 tsp cumin seeds
1/2 tsp chilli flakes
1 tbsp olive oil
1 bag of leafy greens, chard in this case (washed)
To make it all I simply did the following:
Heat the oil in a large frying pan
Add the whole cumin seeds and chilli flakes
Fry for 2-3 minutes
Lower the heat and add the finely chopped garlic, ginger and chilli
While this is frying I trim the very ends of the chard stalks and then separate any tougher stalks from the green leaves
The stalks I roughly chop and add to the frying spices
After about 3 minutes I add the roughly chopped leaves (these want to be fairly chunky still, I would suggest 1 inch wide strips)
Fry/wilt away the leaves until it has reduced significantly but the leaves still have some texture, stirring regularly
Serve with as many of the spices you can scrape out of the frying pan
I should point out; I've not really tempted my son with this yet so this is how my wife and I get our chilli hit at the moment during a family meal.
The secret to making my sons eyes truly light up at this meal is the prospect of poppadoms with mango chutney. Sadly the chutney is not compatible with my wife's low sugar diet but my son (and I) adore them. We've recently found cook-at-home mini-poppadoms that are sold by Sainsburys. Quickly deep frying these in batches of 2-3 in a shallow saucepan of smoking hot oil works really well. We even mix plain and black pepper varieties to show that we are an unpredictable dynamic family; the sort of spontaneous, joie-de-vivre kind of people you'd want at your next dinner party, right?!
(and yes, we'll cook, it's easier that way anyway…)
Enjoy! Toodlepips X