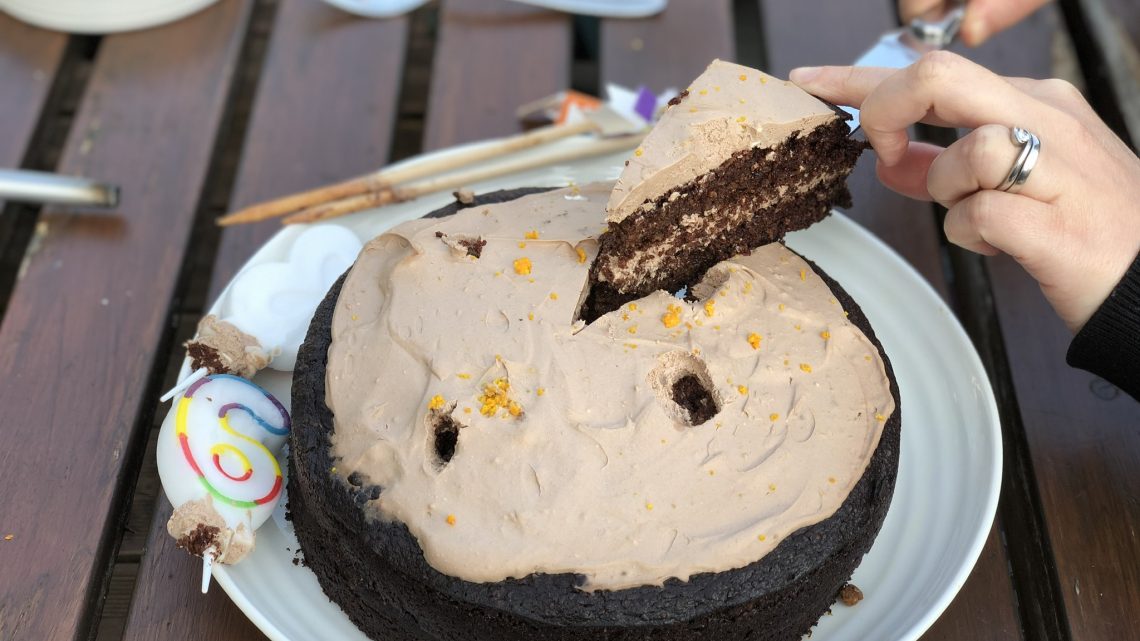 Cake, twice!
So without giving away any specific ages or dates, April is a pretty big month in this house for birthdays. And this year was no different. No, wait. It was! Amid social lockdown and barely leaving the house, it was quite a different set of birthdays for both my wife and Piglet. To be fair, Piglet still got to have a digital birthday party (massive thanks to Mairi from https://www.showstopperuk.com/ for keeping us all so entertained), and we actually had a lovely (close) family day for my wife.
My son got 5 amazing wooden Frozen dolls, beautifully painted by my wife and then I made him a cardboard dolls house to put them all in that barely lasted the length of the day. He loved both hugely. My wife was treated to an infuriating 7 hour treasure hunt: 10 rhyming puzzles hidden around the house with painfully little help from myself when nobody can untangle the inner workings of my convoluted mind! It only took 7 hours as we had a couple of slightly complicated meals to make and went for a walk in the afternoon. As much as it winded my wife up; Piglet absolutely loved it and wanted to make up his own as soon as it had finished. The meals were pretty much all I could offer as a present, considering Sainsbury's was pretty much the only shop I could get to in the lockdown. For lunch we had steak with sweet potato fries and for dinner we had dairy-free, gluten-free lasagna. Both went down very well with both my wife and Piglet!
The one thing that did tie together both birthdays was the birthday staple: cake. Piglet wanted chocolate cake with pink icing which we managed to do with practically no sugar, no wheat and (if I remember correctly) no eggs. The pink icing came from raspberries and coconut cream and he was very happy with it. The second cake was just a chocolate fest – but actually turned out very well! Chocolate cake with chocolate icing! In fact, we liked it so much that it thought it was probably worth sharing!
To be fair, it's basically a re-working of the ginger chocolate bundt cake that I've shared before but the icing and orange made it really quite special. The ingredients are:
For the cake itself:
Porridge Oats (100g)
Mixed Roasted Nuts (175g) (chuck a load of various nuts in a roasting pan and put in the oven for 10-15 mins at 140oC – cook more you'll quickly eat the rest!)
Stevia (sugar alternative) (50g)
Bicarbonate of soda (3/4 of a teaspoon)
Salt (1/2 teaspoon)
Olive oil (200ml)
Cocoa (50g)
Dairy-free yoghurt (we use Coco Collaborative) (150ml)
Eggs (2, large)
For the icing:
Coconut milk (a 400ml can, chilled)
Cocoa (2 teaspoons or to taste)
Orange zest (1 orange)
Instructions:
Preheat the Oven to 180°C
Grease 2 sandwich cake tins with oil
Grind the oats and nuts into a fine flour in a food processor
Whisk the flour, stevia, bicarbonate of soda and salt together in large mixing bowl
Heat the oil, cocoa and 250ml of water in a saucepan. Bring to the boil, whisking constantly (it will thicken a bit)
Pour the hot cocoa mixture into the dry ingredients in the mixing bowl and mix.
Add the Almond Yoghurt and eggs and whisk all together until combined
Pour the cake mix equally into the two sandwich cake tins
Bake for 25 minutes until a skewer can be inserted and removed with only a few crumbs sticking to it
Cool for 5 minutes and then remove onto a wire rack. Leave until cool.
Open the can of chilled coconut milk and spoon out the solid cream, leaving as much of the liquid behind as possible
Mix the cocoa, coconut cream and all but a pinch of the orange zest in a separate bowl.
When the cakes are completely cooled, use half the mixture to sandwich the cakes together and the other half to spread over the top
Sprinkle the remaining pinch of zest over the top.
If not eating immediately, the icing is best kept in the fridge
Consume!!
Let me know if you have a go and how you get on. It's definitely less sweet than many a chocolate cake but that makes it all the more moorish to me.
Toodlepips X