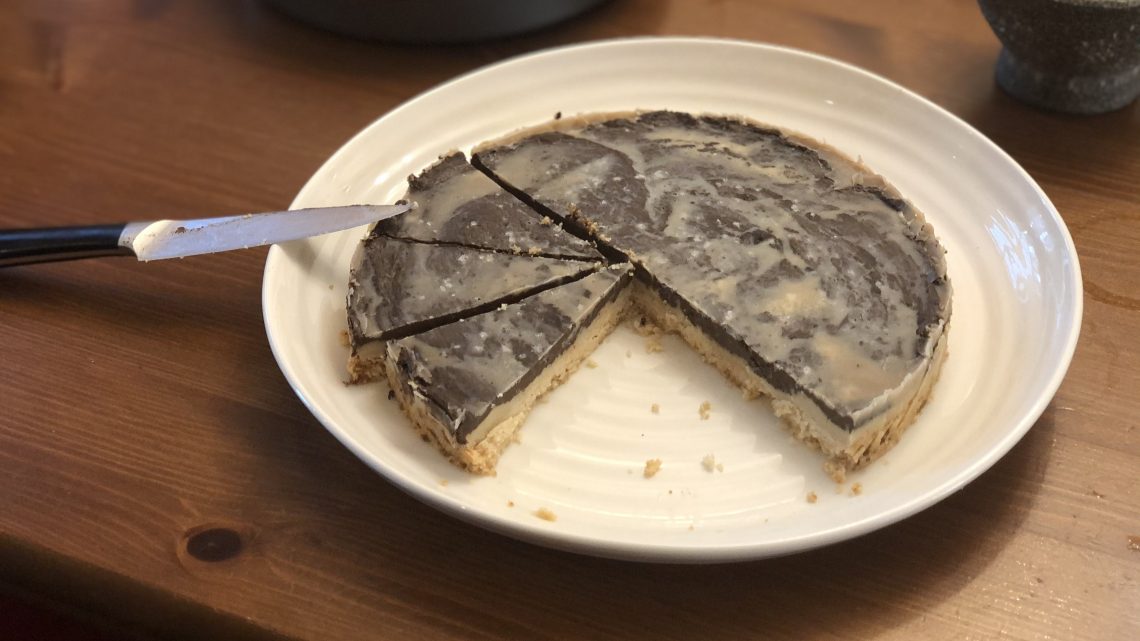 A tart for all the family
Quick post this time. Just wanted to share a pudding that my wife made last week that was gone before you could say "low-fructose, gluten-free millionaire cheesecake pie?"
I think what surprised me most about it is that the tart seems to be more than the sum of its parts. All three of us (with varying levels of sweet tooth) adored it and it was gone within a matter of days. Obviously the ingredients are milk and soya free, but it's also made to be suitable for my wife's PCOS diet which means that it's reasonably low carbohydrate, high protein and without refined sugars (specifically low in fructose). We make a lot of these kind of puddings (it's very difficult to buy such things) and they're invariably a bit hit-and-miss but this one really hit the spot. Please let me know if you decide to make it. I hope you like it if you do!
The original recipe came from ambitious kitchen, although adjusted slightly for our preferences.
The tart is made of three layers: a shortbread base, a salted caramel layer and a chocolate topping.
For the shortbread base:
1 1/2 cups of ground almonds
3 tablespoons of coconut oil
1 1/2 tablespoons of brown rice syrup
1/2 teaspoon of vanilla extract
1/4 teaspoon of salt
For the salted tahini caramel:
1/2 cup of tahini (sesame pulp)
1/4 cup of brown rice syrup
1/3 cup of coconut oil
1 teaspoon of vanilla extract
1/2 teaspoon of salt
For the chocolate topping:
100g of Montezuma 100% chocolate
2 tablespoons of coconut cream (or the thicker stuff from a can of coconut milk)
1 tablespoon of brown rice syrup
Method:
Preheat the oven to 180 degrees celsius or gas mark 4
Grease a small cake tin with coconut oil
In a bowl, mix together the shortcake ingredients (ground almonds, coconut oil, brown rice syrup, vanilla extract and salt until a good consistency. Layer this at the bottom of the cake tin
Bake for 10 mins and then allow to cool (in the tin) for 10 mins
To make the caramel: add the tahini, syrup, oil, vanilla and salt to a saucepan and heat for 2 mins stirring constantly
Pour the caramel over the top of the base
Place the two layer tart into the fridge for an hour to firm up
For the chocolate top: melt the chocolate by placing in a glass bowl over a pan of simmering water (double boiler)
Once melted, melt in the coconut cream and stir through
Cool slightly and pour over the top of the chilled bottom two layers, spreading to get an even layer
Place back in the fridge for another hour
Remove from the cake tin and cut into approx. 12 slices
Serve chilled. I would thoroughly recommend serving with Booja booja caramel pecan praline (for those who didn't need the low sugar!)
I should explain that this recipe is slightly different from the one we made. We'd run out of brown rice syrup and used stevia granules instead. It tasted good but the more I've read about Stevia (especially the bulked up stuff you often get) the less comfortable I am about it. I'm confident that this will work and it's actually more like the original recipe where they used maple syrup.