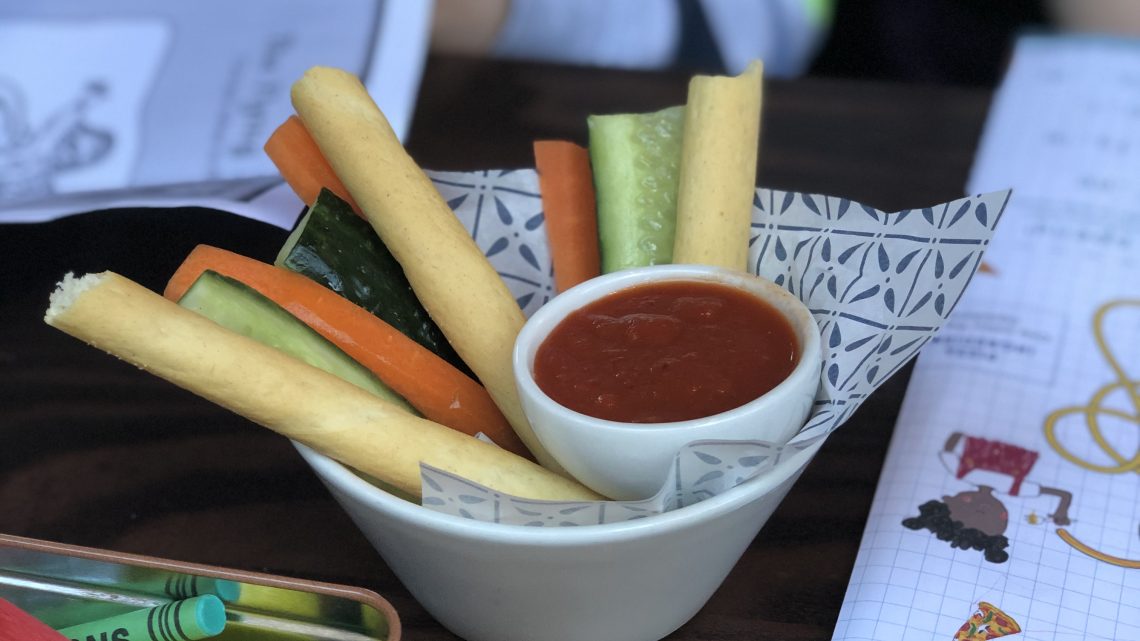 Beautiful Italy
Piglet has been invited to a pizza making birthday party. Yep, that's right… Little Piglet who only yesterday was a baby I used to rock to sleep in my arms is now getting invited to birthday parties. And not any old birthday parties; ones that involve making pizza!
The location of this party is Beautiful Italy, or at least that's what Google translate would have me understand Bella Italia to be… Bella Italia is one of the Italian chain restaurants I know less about. We've been big fans of Zizzi and Pizza Express for the allergen info/menus but I have just never really come across Bella Italia. Interestingly, at least to me, it's owned by the "Casual Dining Group", which own chains like Cafe Rouge and Las Iguanas; other brands which I'm aware of and have been to but wouldn't generally look for if considering options.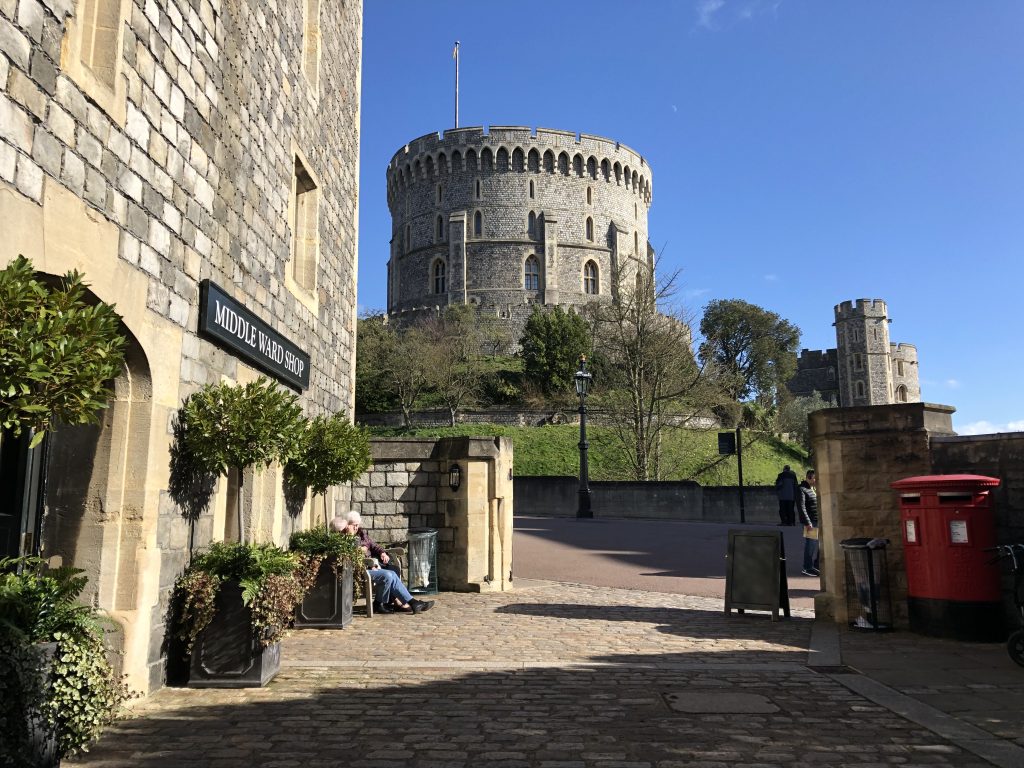 We decided to take a late Sunday lunch here, last weekend, to try the place out for allergy info before Piglet comes in a few weeks. We'd gone for a tour around Windsor Castle in the morning and spent longer than expected there so were quite surprised that they were still so busy at 1:30/2:00pm when we tried to get a table. In fact, now that I think about it – every time I go past, it's always very busy.
I felt a little sorry for the waitress who was given the task of seating us. I can only assume she was very new or inexperienced as she didn't seem to have a clue what she was doing and was given a series of seemingly meaningless table numbers to try and sit us at by a manager or co-worker who was then overruled by another passing waitress. I think her relief at sitting us was audible when the ordeal was over. I asked for an allergen menu and they asked which allergies we were managing. They were able to bring us 'dairy-free' menus and then pointed us in the direction of a QR code that gave us a link to their online allergen menu.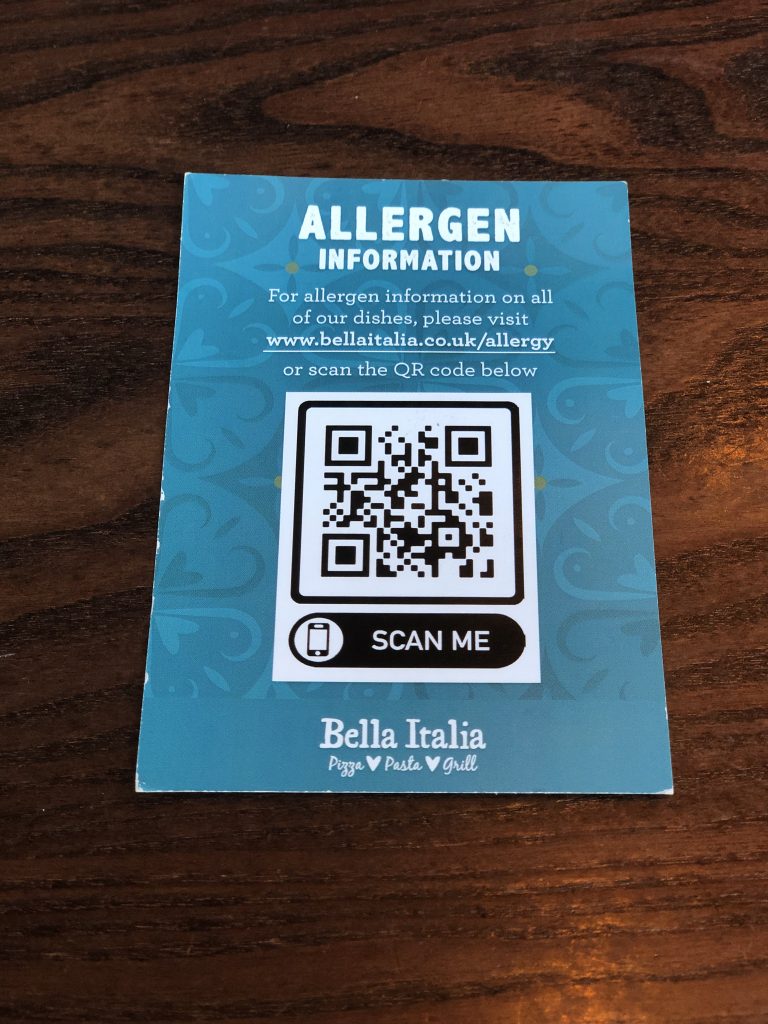 The menu was surprisingly good for us – quite a few options that suited each of our individual needs. I liked the 300kcal and 600kcal meals that they'd flagged up on the menu, although in the end I didn't end up choosing one of them. Piglet was able to get a pizza with dairy-free cheese and my wife had at least one protein-high, low carb option that excluded gluten, milk and soya. We were quite pleased once we'd made our decisions.
In the end, I chose a meatball pasta from the diary-free menu; Piglet had a chicken and pepper kids pizza; and my wife had a steak with sweet potato chips. I also ordered myself an alcohol free "G&T", as it caught my attention on the drinks poster at the table and we'd been looking at alcohol-free spirits in the supermarket just earlier. Our drinks arrived quickly and instantly Piglet took a shine to my interesting tumbler compared to his plain glass of water. My wife and I shared a momentarily doubting look before deciding that an alcohol-free cocktail was probably not the worst thing for him to try; and that he probably wouldn't like it. How wrong we were… He LOVED it and was quite upset at the idea he had to even share it let alone have a sip and pass it back. The next 10 minutes were spent negotiating shares of 'cocktail' and water appropriately.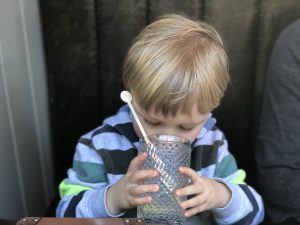 Piglet's kids meal came with a starter of bread and vegetables sticks with a pomodoro sauce. He took a little persuading to dip anything into the sauce but loved it once he did. The main food took a little while to come: not so long that we were actively frustrated, but long enough for Piglet to start losing interest at sitting at the table when there were more interesting distractions around, despite our best attempts.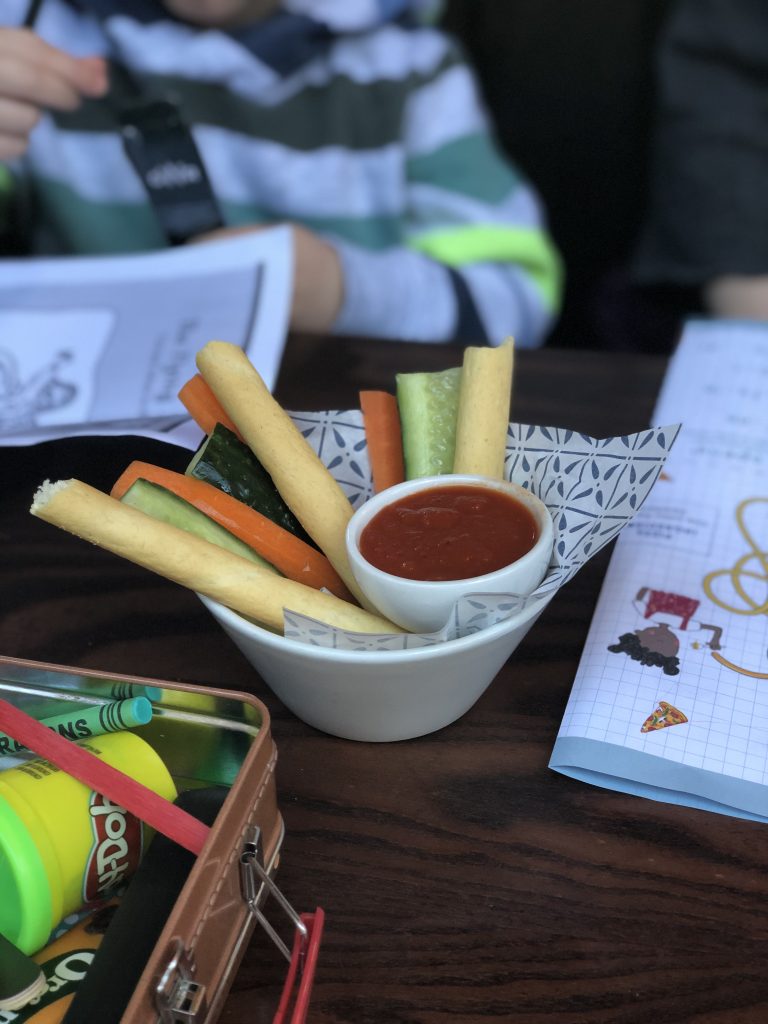 When the meal did turn up, there were a few oddities. To be fair, my wife's meal was exactly as she'd ordered it and so was my son's. However I think whenever you label a chicken pizza with "vegan" stickers – you've got to question whether the allergy/dietary labelling is working correctly. I can see why it happens – you want to label that it's been made with vegan cheese. But I know already that my vegan friend (Alan, from the podcast last week!), will be very unimpressed to hear that. Unfortunately the confusion seemed to extend to my meal too. My plate also had a big "vegan" sticker on the side; although I suspected in this case it was right. I hadn't ordered the vegan meatballs; although I had seen that it was an option on the menu when ordering. I hate complaining, and I was pretty sure that this would be fine, but I bit into one of the 'meat'balls and it was quite disappointing. There are many fantastic vegan meals and alternatives available but, on my very limited taste test, this wasn't one of them. Since starting this new diet where I try and keep each meal to a reasonable number of calories, and with my wife's diet being fairly limited; we haven't been eating out anywhere near as much. I'd quite built up the excitement of 'treating' myself to a main-course meal and this seemed like quite a disappointing way to use it. I deliberated whether it was worth questioning and weighed up the possibility that we might have another longish wait to get a second version. However, the peer pressure of knowing I was going to write the meal up as a review, and knowing that it would seem pathetic to have not said anything in the cold clarity of hindsight (away from the pressures of a hungry dad and distracted child), pushed me into at least enquiring whether there had been a mix up or whether this was the dairy-free option.
At first, there seemed to be some confusion with the waitress suggesting that the meatballs were at risk of having milk. Although when I pressed that they'd been on the 'dairy-free' menu she went to go and check. She returned and apologised, explaining that there had been a mix-up with the chef and they were happy to switch it for the non-vegan option if I wanted. I was happy to take them up on that offer and instantly shifted my eyes across the table to my son's pizza which he was inexplicably no longer interested in. Well actually, there was an explanation – he wanted my wife's sweet potato chips but didn't seem willing to comprehend that my wife couldn't just have his pizza instead. The irony has not passed me that he loved his bread and tomato sauce starter; but roll it flat and call it a pizza and suddenly he's got no interest at all!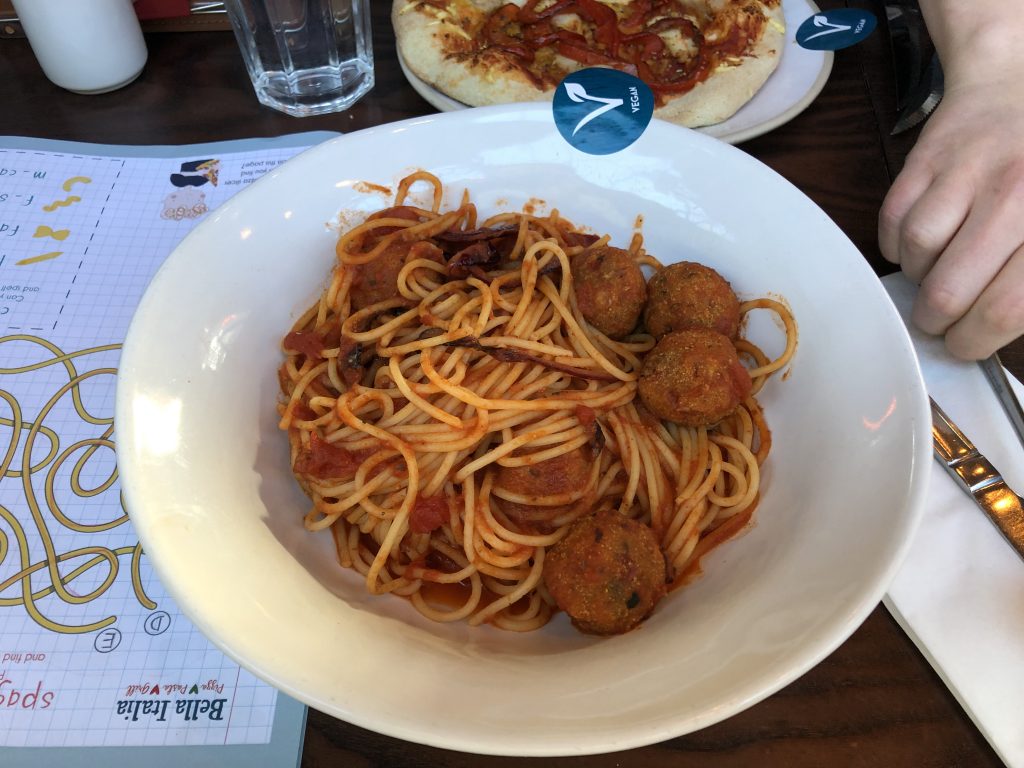 My second version of my meal actually came very quickly once the mix up had been resolved and Piglet and I resolved to share both of our main courses with each other to keep the peace. Actually, having tried a bit of all three meals, they were all pretty good and tasty. I particularly liked my wife's steak, even if it was a little overcooked for her 'medium' liking.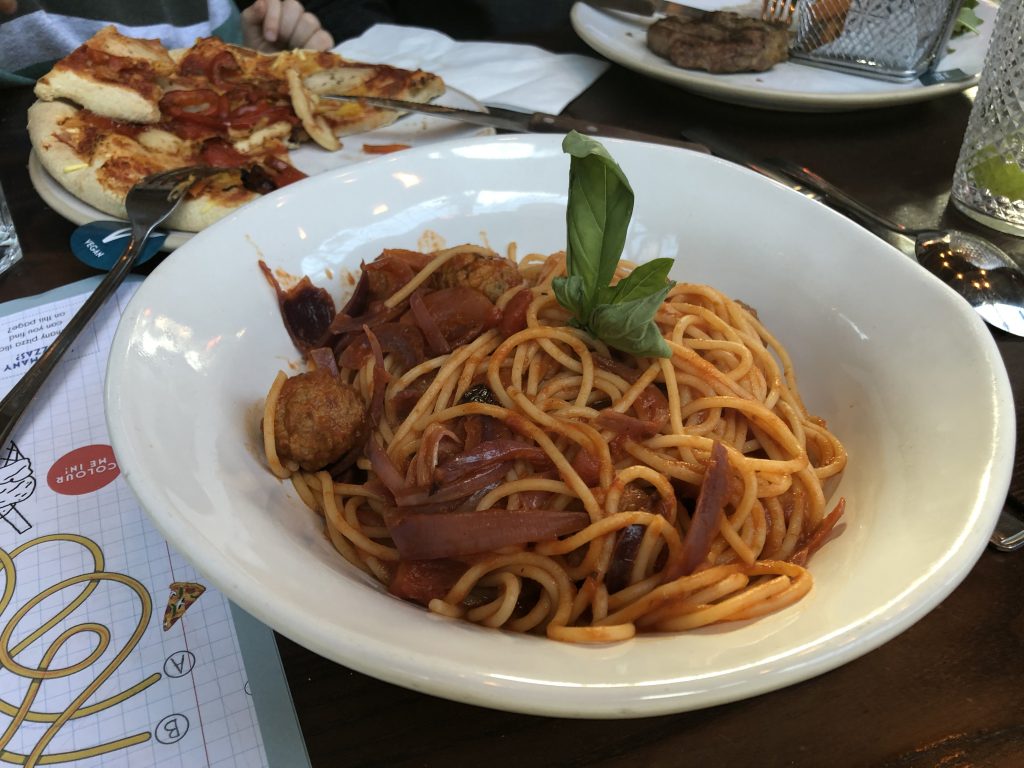 I feel confident that Piglet will enjoy his pizza party there soon and that there will be options there to make it work for him. Our food (and my "G&T") was actually very good too. The allergy menu itself was good, although the communications issues and labelling faux pas let it down a bit there. I imagine we will go back at some point; if just to get my son his own G&T.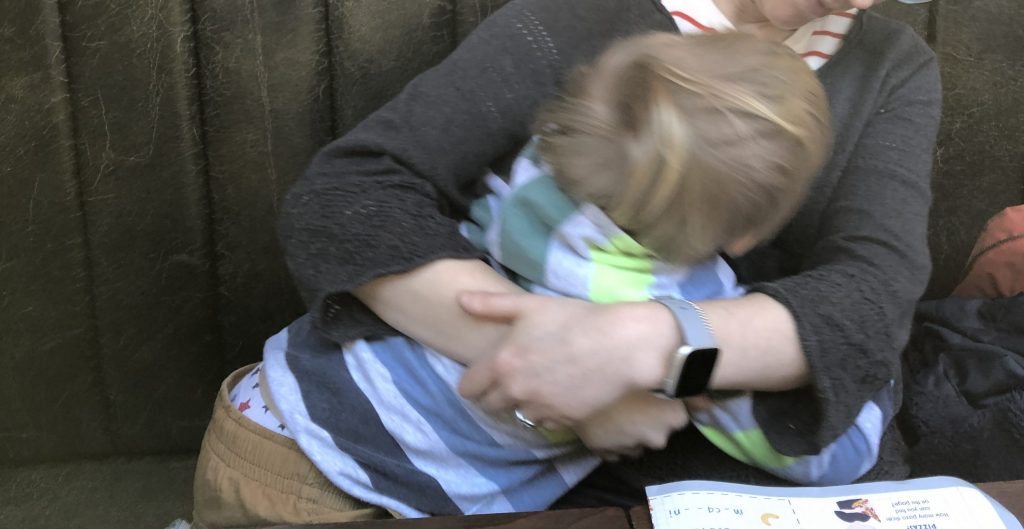 Toodlepips X