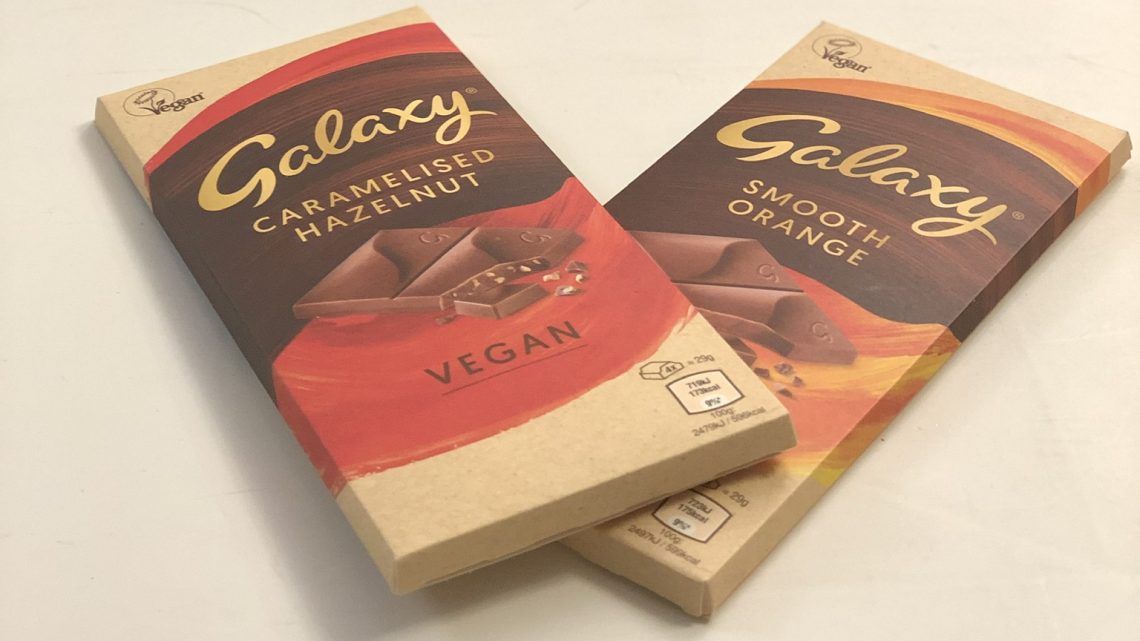 Vegan Galaxy Chocolate
Woo hoo! This is a treat!
In line with the many vegan versions of common brands that have become available in the last few months, I recently tried Galaxy's vegan chocolate. They have launched three versions of their vegan milk chocolate: Caramel and Sea Salt, Caramelised Hazelnut and Smooth Orange. The latter two of the I tried around Christmas and the first of which I've just bought for the first time.
For chocolate aficionados, these vegan chocolates probably taste mostly of sugar and there are certainly some delicious and refined dark chocolates that are available milk and soya free just as they are. However for anyone who longs for the nostalgia of Terry's chocolate oranges or fine praline seahorses – these fill a gap that's very difficult to otherwise fill. The smooth orange flavour is particularly good! In fact they're all good. Very, very satisfying with a rich, sweet chocolate kick and without the odd chemically aftertaste that can come with some 'free-from' milk chocolate alternatives.
The caramelised hazelnut flavour is also very good. Both that packet and the smooth orange one disappeared very quickly in the gap between Christmas and New Year. The caramel and sea salt flavour that I've just opened is also very nice but probably my least favourite of the three. I think one reason this flavour is so difficult to win with is that the NOMO brand of 'free-from' chocolate do an absolutely exquisite salted caramel flavour. The one that I was introduced to via the NOMO advent calendar that we had back in December.
There is one downside to the Galaxy vegan chocolate and that is the cost. £3 for a large 100g bar seems like paying an arm and a leg for the option of having milk removed from a commonly available alternative. 110g bars of Galaxy milk chocolate can be bought for £1.50 so it's over twice the price of the alternative. I could understand if there were significant overheads that went with isolating the vegan factory so that they could confirm that cross contamination had been ruled out. But that's not the case – the bars are 'may contains' for milk, gluten and nuts (nuts, obviously, for the hazelnut one). I suspect in time, as companies compete to land their vegan audience, competition will force these prices down to the levels of traditional version. It can't be more expensive to make the vegan chocolate, surely? But I guess there are overheads that come with smaller production lines until the vegan options become mainstream. That said, at such a price it must be quite a deterrent for those who would prefer this than the usual option.
The other thing to bear in mind when you try them is that they are very sweet. I suspect this is partially needed to cover some of the alternative ingredients that may be a bit more bitter (or at least less palatable) than cow's milk. It makes them very tasty but I tend to eat it more like I eat my dark chocolate: a square at a time than I maybe once used to eat bars of milk chocolate. I don't know whether that's more to do with my weaker metabolism and conscientious eating habits or dark chocolate appreciations.
I would very definitely recommend these as a treat and a great gift for anyone who might like to have vegan chocolate, even if they are a bit too expensive and sweet to become an everyday item. It's definitely a step in the right direction as far as I am concerned though!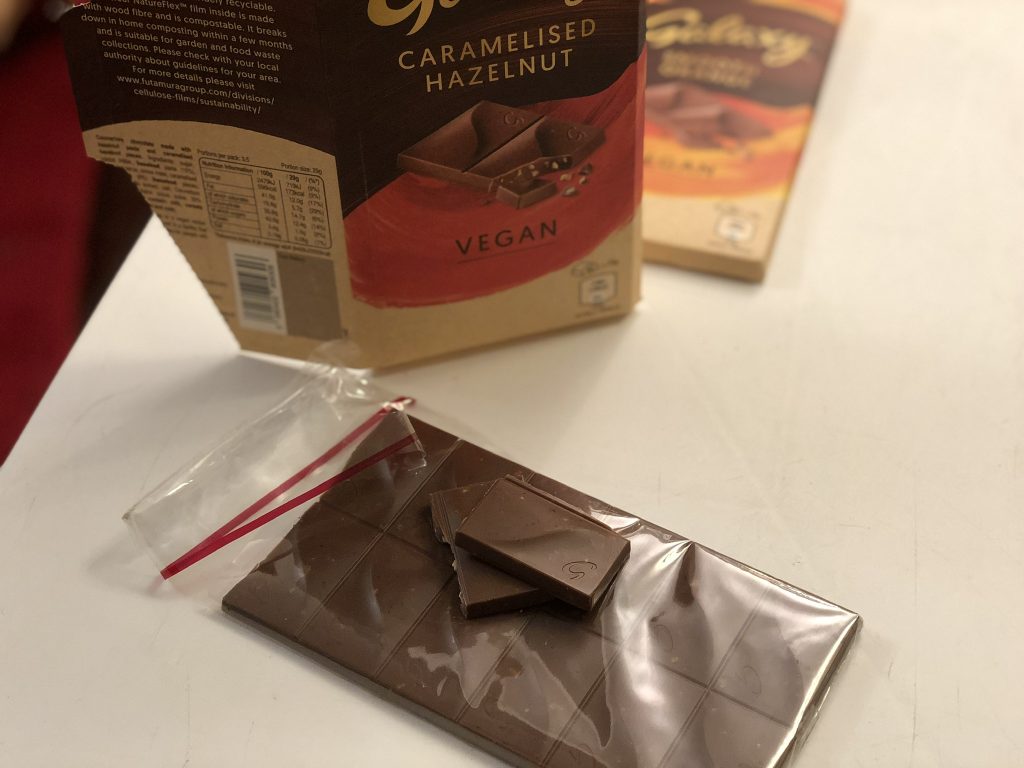 In the spirit of fairness; I feel a vegan chocolate taste test coming on in the style of the snack bar, treat review. Maybe even another podcast?!
Toodlepips x