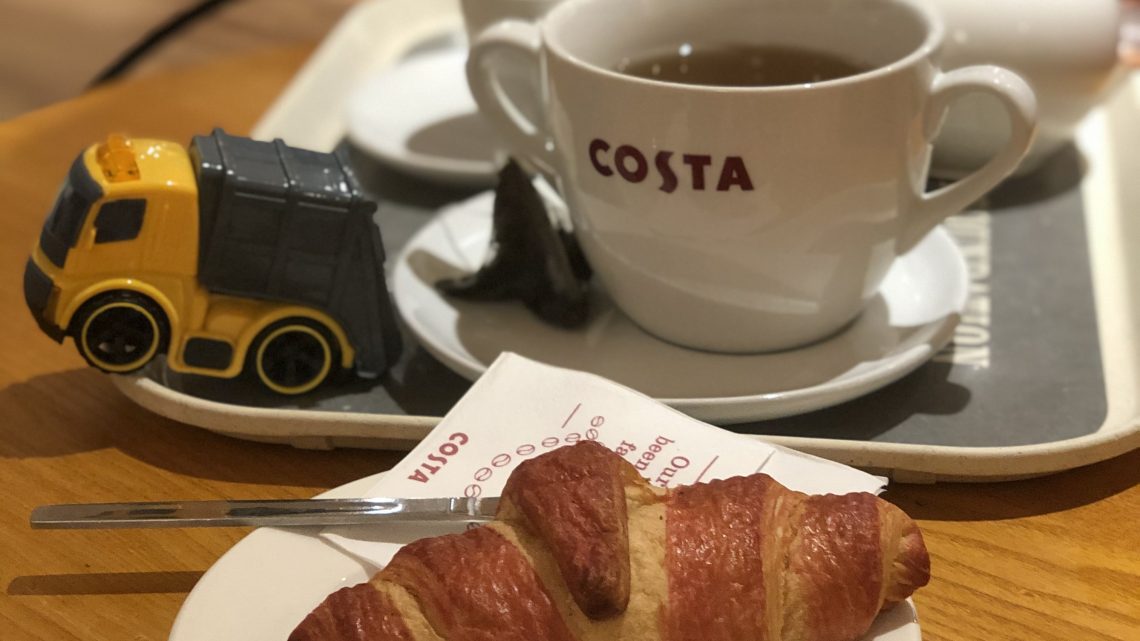 Vegan Explosion
No, this isn't the joke about an explosion in a milk-free cheese factory ("de brie" everywhere)… 2020 looks like it's set to be the year of the vegan. Coffee shops and restaurants seem to be stumbling over themselves to roll out vegan menus for Spring. KFC have launched a vegan mycoprotein 'chicken' burger; Gregg's have launched a vegan steak bake and Burger King have got in trouble with vegan community for creating a 'vegan' burger that can't be called vegan. Eating out seems to be changing, rapidly!
Followers of this blog will know that we're not vegan but obviously vegan things are milk-free which is big bonus in certain areas. I was a vegetarian who didn't eat milk products for much of my childhood so I can certain relate to a vegan (or near-vegan) diet. I also have a very strict vegan best friend who lets me cook for him and his family so I've got a pretty good handle on the 'rules' for ethical veganism. That said, with my wife's PCOS diet and my higher-protein, lower-carb diet; I'm probably as far from a vegan diet as I've been for some time. As a result, this vegan commercial push does wonders for adding items to diets that I can eat but can push the consumption of 'fast food' which I might not necessarily choose to.
Another thing to be aware of is that vegan food often means ingredient-free rather than low/no risk of allergens. This comes back to the issue with the Burger King vegan burger where, because it's cooked on the same grill as other (meat) items, it is not considered vegan by the Vegan Society. Meat contamination is obviously an issue but allergy contamination is another and there are multiple examples where vegan food has been shown to induce milk allergic reactions. Something to be aware of if you have an acute (or specifically, IgE) allergy.
Anyway, in the aim of embracing the list of new vegan (no milk) options available to us we headed to Costa Coffee today (with no awareness that they'd even launched a vegan menu until we go there!). I can actually have the hot chocolate at Costa if I have almond milk but I didn't really fancy the sugar rush so my wife and I went for trusty mint teas and Piglet had his usual almond milk babyccino. The place was packed (even for a Saturday afternoon) and they'd run out of tea pots and babyccino cups so I had my tea in a massive mug and Piglet had an unusually large cappu-babyccino.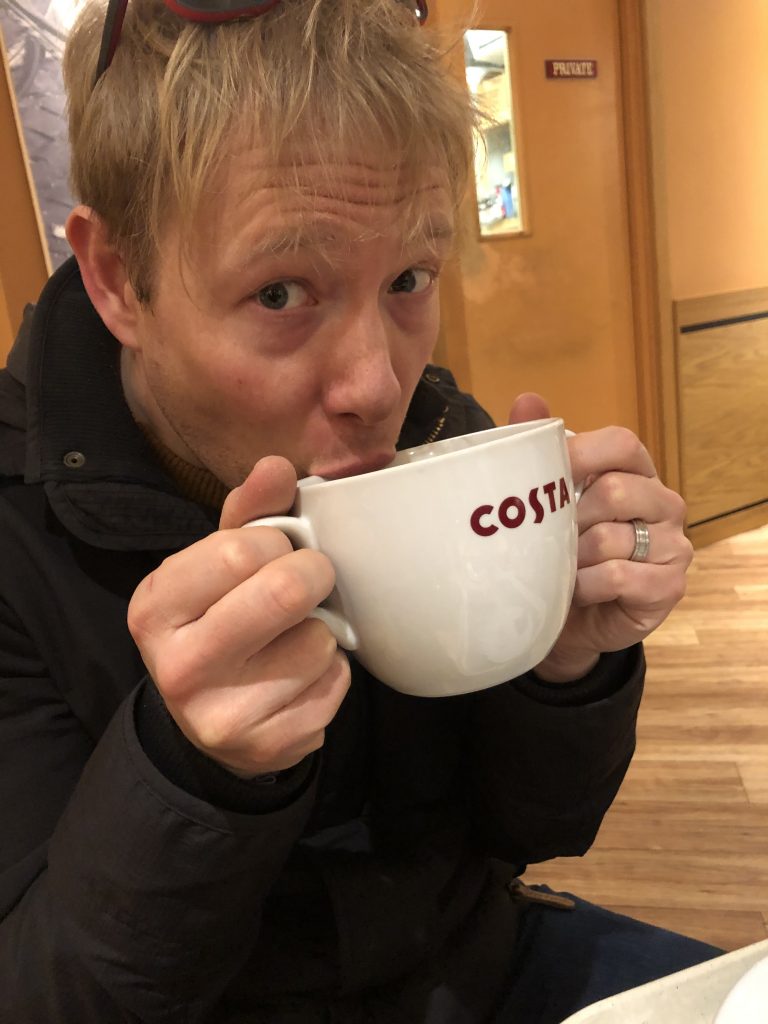 I assume that Costa was just busy because town was busy (although it didn't seem that different) but the only other difference I could see was there was a promotional vegan menu on each table. I glanced at it and saw the advertising of the milk alternatives that they offer – something I've been aware of (and written about) for some time now. However, I noticed that that there were also some bakery and cake options that were suitable. In particular, a vegan strawberry croissant (something that sounds like the output of a random three word generator, if you ask me). I didn't hugely fancy one if I was honest but Piglet was a little bit put out that he hadn't been able to eat all of mummy's pack of nuts in addition to his bag of Organix mini gingerbread man. Plus it seemed a good thing to review… A quick scan of the allergen menu (I say quick, it's BIG…) and a few minutes later we were sat in front of this: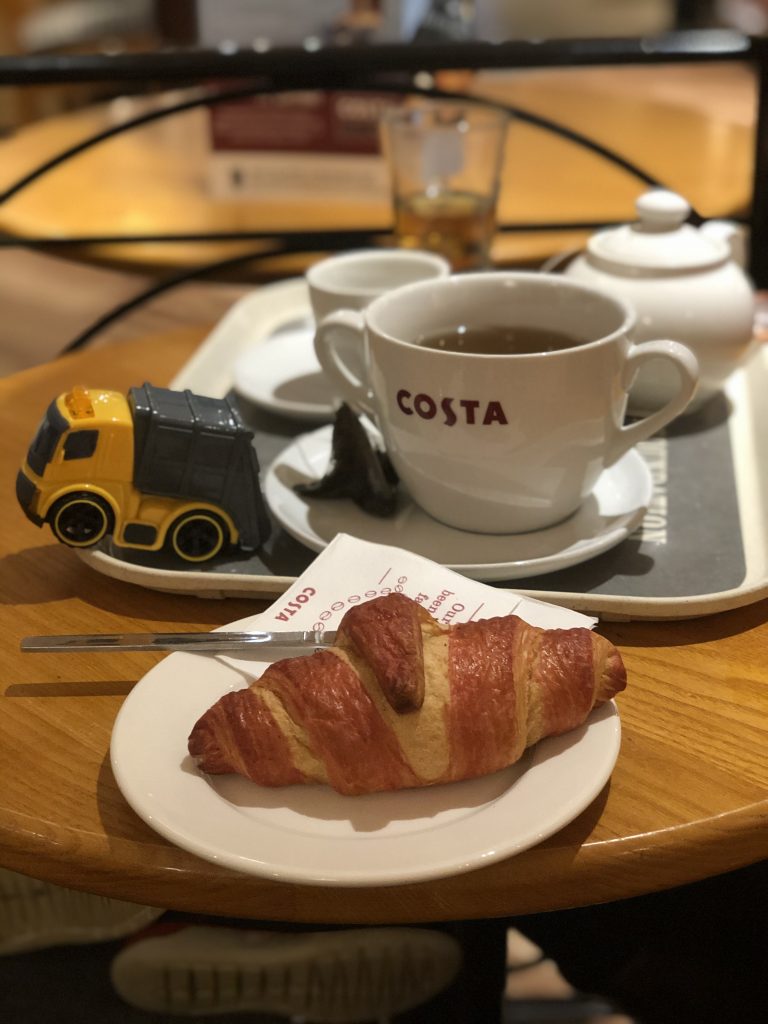 At 300kcal it wasn't a disaster for my diet but I didn't fancy eating the whole thing. Piglet seemed keen to have as much as I was willing to leave. I cut it up in to about 6 pieces and offered it up to Piglet. It has a sweet strawberry jam filling and the outside is pinker than my photo has really managed to capture. At first taste, the most imposing impression is the fragrance of strawberry laces. I say fragrance, you can actually taste it in the back of the your throat before you take a bite!
The croissant is surprisingly good for one without any butter but you're left with the sensation that they must be trying to hide something if they've flavoured it that strongly with strawberry. At first it's nice – an unusual twist on a classic. But then you start remembering that you quite like the classic, aren't that keen on strawberry laces and weren't in a hurry to get type-2 diabetes. It's not bad, both Piglet and I went back for a second piece but considering we both don't get a huge amount of sugar in our diet, it was telling (or possibly consequential) that given the opportunity we didn't finish it between us.
In terms of the vegan food explosion; I can't help thinking that all these vegan options will just give me chances to eat sweet things that had been removed for my diet for milk reasons, but should probably remain removed for health reasons. That said, I'm sure I will look forward to many of the new things I will get to try this year. I certainly look forward to the introduction of more vegan main meals in restaurants if that's the way we're going.
More posts to come soon.
Toodlepips x
---
P.S. More posts about New Years and 2020 to come. We're getting the band back together!