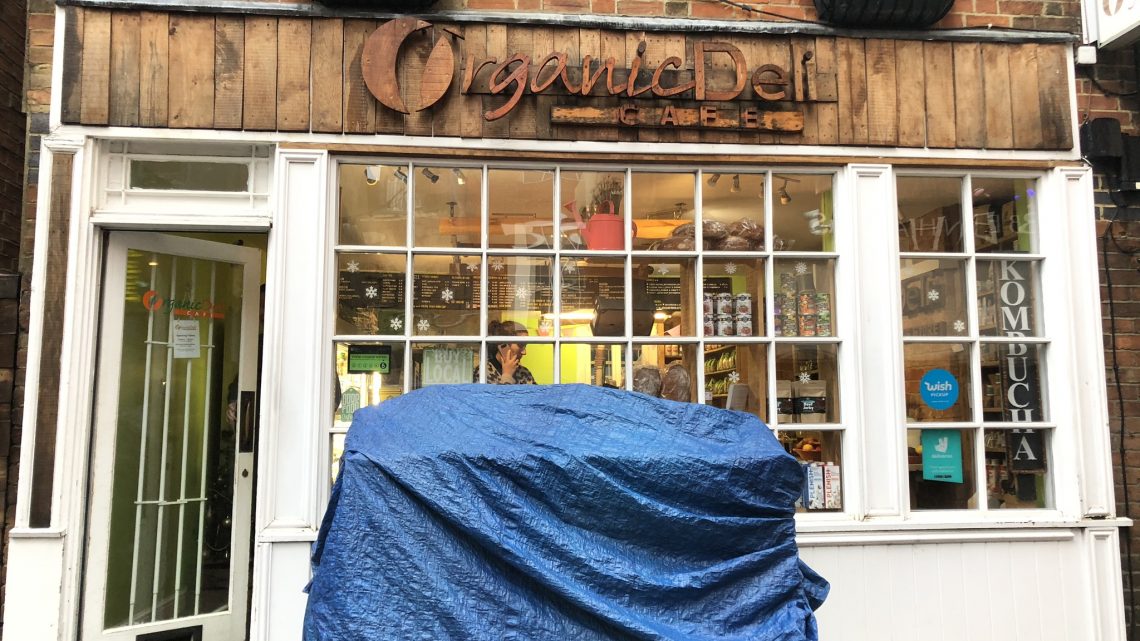 Oxford Organic Deli Cafe
A very pleasant surprise…
Before the festivities fully kicked in, a random Tuesday was spent Christmas shopping in Oxford. I booked a day's annual leave, my wife had already broken up for the Christmas holidays and Piglet was booked into nursery so we drove him in for the morning drop-off and then made our way to Oxford City Centre ready for the shops to open.
We've done this for a few years now. It ruins a little bit of the surprise in that you can make fairly educated guesses about where each other has gone to get presents. But we've got pretty good self-discipline not to pry and it gives us the chance to spend much of the day together as a sort of treat day out.
We got to the (relatively) new Westgate shopping centre before many of the shops had opened and wondered through making mental notes of the places we'd need to come back to. The new shopping area has transformed the city centre for better and for worse. The range of shops the city now boasts is one of the reasons we drove an hour from our house to do all our shopping in one place; but the new centre has dragged all the big brand names away from the old high street even though it's only a few hundred metres away. As a result, one of my favourite department shops as a child, Boswells, is now closing and quite a lot of the old shops have changed dramatically…
We headed towards the 'original' shopping centre first as the shops were open there and it gave us a chance to see the Christmas market and a couple of bookshops including Blackwell's. Blackwell's is a legendary bookshop just at the end of Broad St. You can walk in to some of the entrances and it feels like you've just sneaked off the main street and found yourself in a tiny book stall, but it just keeps opening further and further back until you get to the enormous cavern at the back. Three plus floors of bookshelves to get lost in, large enough to justify having it's own 'photograph point'! As the husband of someone who is a BIG fan of books of all sorts (and would quite happily spend the rest of her life in the history section of such a shop) it was quite a coup. They even had a 'special collections' section at the back including unusual and rare books. They had a first edition set of Ian Flemming's James Bond books which I think was on sale for something like £6000!
The thing that we'd come to Blackwell's for was to get our hands on a poetry anthology that has been beautifully illustrated by my sister: Poems Out Loud. We've been meaning to get it for Piglet for ages and it seemed suitably fitting that I found it in a book shop in Oxford, the city that my sister and I lived in for our entire childhoods. He looked very chuffed to open it in front of her and be told that she had drawn all the pictures!
After visiting one huge bookshop, and then another smaller bookshop, we looked for places for lunch. There are a couple of chain restaurants in Oxford that we knew would be suitable but I felt like trying something new; or at least seeing whether we could find anything new to try. In a slightly odd and unusual approach; I tried googling "Oxford allergies" and after several search results about allergy testing in Oxford I stumbled across a TripAdvisor review about a cafe that was supposedly good with them. It was a fairly throw-away comment in the review once read in context but it was interesting enough for me to investigate "The Organic Deli Cafe" further.
We found it eventually on a small alleyway that I knew from my childhood but you'd probably rarely go down as a tourist in Oxford. From the outside, I wasn't sure I'd found the right place. It wasn't much to look at with a large tarpaulin covering much of the front of the shop. Also looking in, there appeared to be two chairs and a single table at the back of the shop. A younger me (more concerned with preserving my pride than finding food options) would have walked away at this point to look for another option. But for some reason I was determined to find out and went into the shop to investigate.
It might sound silly to go up to the front of a the cafe, having bothered to look for it after finding it online, only to walk away at the uncertainty of not knowing whether it was suitable. But it's something I've done all my life… I've covered before how I didn't eat in restaurants much as a child and, while I'm much better now, I can be made to feel anxious very easily in certain eating-out situations. I remember clearly (and with a huge amount of embarrassment and frustration at myself) that my wife and I once walked the streets of Paris for about 2.5 hours looking for somewhere to eat only for one of us (and usually me) to turn away from restaurant after restaurant. In the end we were both so tired and hungry that we made a really bad decision and ate in somewhere really quite unsuitable. It can be anything from a premises seeming too posh or not nice enough or being worried about it being expensive or ambiguous over what the meal sizes were etc… I was terrified as a younger adult of dining out and through a misunderstanding or miscomunication ordering something that was much more expensive than I'd realised and not being able to pay the bill at the end of the meal! Interestingly one of the best meals I've ever had was at a tapas restaurant in Seville (back in the days when I didn't really have any dietary requirements at all). The food was amazing but each tapas plate was so generous that I spent the entire meal terrified that, through the language barrier, I'd ordered 6 full main courses and wondering how it would affect the rest of the holiday that we'd need to spend most of our travel money on a single meal (and my stupidity). In the end we'd ordered exactly what we'd meant to and the meal was actually surprisingly cheap for the quality and quantity we were given. In short, I very quickly revert to 'flight or fight' in the face of choosing a restaurant and walk away in the face of a perfectly reasonable option.
Anyway, I went in and asked the very friendly gentleman at the deli till what the options were for food. He gently pointed me to the blackboard above my head that had a range of options and the signs for more seating upstairs. At this point, my wife had to take a telephone call about her upcoming surgery. The importance and length of this call meant that I was left to discuss the various options on the board and their potential suitability for us without any of the pressure to order without my wife present. In the end, I ordered an avacado breakfast option that came with poached eggs and bacon and my wife opted for one of the veggie bowls. It turned out that they didn't actually have her first choice left so she went for a quinoa veg chilli instead.
Having placed our orders, we headed up stairs to find somewhere to sit. To my surprise the upstairs was much busier than the activity in the deli had given me to believe. We found a seat by the window which sadly only overlooked the alleyway we'd just been walking down and the various building works around the next-door Debenhams which must have now been there for years! Fairly soon after taking our seats, giving us just enough time to decide whether we liked the lemongrass Kombucha drink we'd decided to share, the guy from the deli came up to say he'd just double checked all of the options we'd ordered and they were definitely fine for our requirements. It's such a little thing but it gives such a degree of confidence when eating in a place like this for the first time – especially when it's an independent establishment that doesn't have the overheads to provide things like allergen menus that clearly don't make sense without the economy of scale that the big-chains provide.
Our food arrived soon and was perfect. Nice tidy lunch portions; not too small but also not too indulgent. All of the items of my late breakfast (late in the sense that it had passed midday; the food delivery was prompt!) were cooked perfectly. But the star was my wife's veg chilli. I've always cooked quinoa as an accompaniment to a main course but by cooking it into the chilli it made the meal much more hearty and the tastes worked really well together. I enjoyed mine but I was quite jealous of my wife's.
Walking tall on the back of a delicious lunch and the pride at having taken a risk and having it paid off, we moved onto the afternoon of our Christmas shopping. We gave ourselves 45 minutes to go off in opposite directions and shop in isolation for a while. I'd already sorted my wife's main present(s) so this was largely window shopping for me. Much of the time I should have been looking for sweet sentimental presents was actually spent bawlking at the amazing new Bose sunglasses that play music directly onto your skull without having traditional speakers that go into your ears… What is the world coming to?! (Amazing though!) We did the traditional stock up on toiletries (an exercise that is more to do with giving us stocking presents to open, rather than any element of surprise for the other on Christmas morning) and agreed the final few items for other people.
We had relatively little family shopping to do this year with each of our families opting towards just having a secret Santa or pooled present for each person. It works well (in my opinion) in that each person gets something they really want and there isn't the overwhelming depth of presents that comes with big families all buying for each other – especially in a house like ours that seems to be bursting at the seams. But it does mean Christmas shopping is relatively straightforward and I might have fallen foul of having too much time to buy presents for my other half… I'm a bit of a hypocrite for not wanting Piglet to have too many presents to open but in all honesty getting too many for my wife. Oh well… It's my birthday soon anyway!
All in all, the trip to Oxford was a successful Christmas shopping trip for the two of us; topped off with some delicious lunch from a place we wouldn't have otherwise known about – but would definitely go back to, when we next get the chance!
Toodlepips x