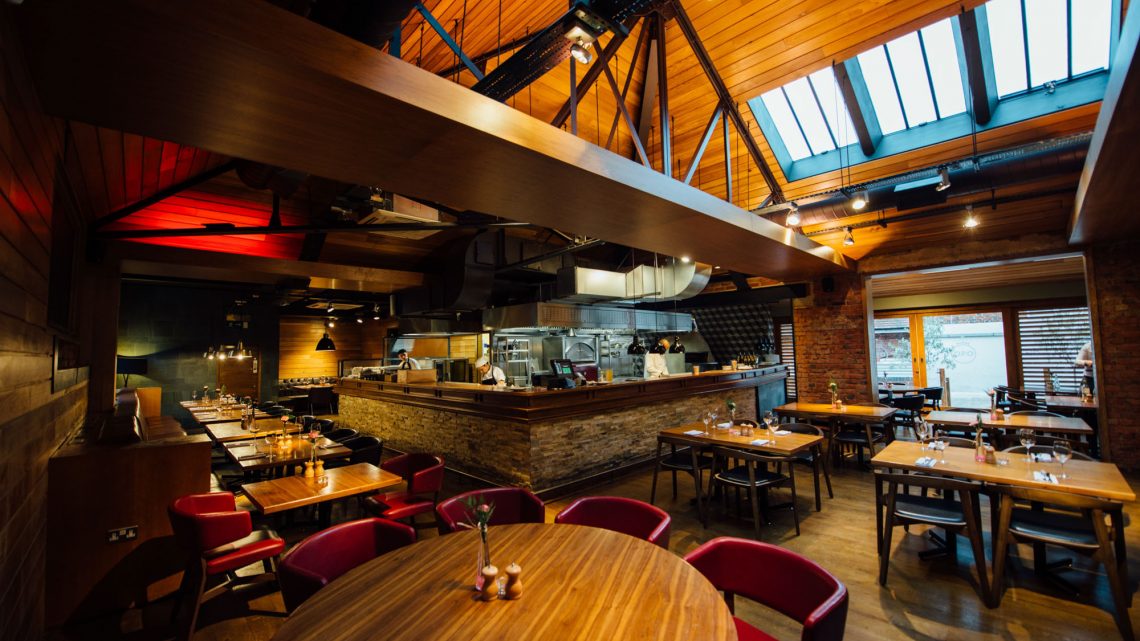 New Year
Happy New Year to you all! It's here – the 2020s! It seems like only yesterday we entered this millennium. I remember that very fondly; drinking Champagne (possibly for the first time) on a hill overlooking the fireworks in Central London.
This New Year's was a little bit, um, different… At home, trying to learn the rules to an incredibly complicated board game and with a (largely token) gin and tonic to see in the celebrations. We pretty much stayed up to sing Auld Lang Syne and then, relieved to have made midnight, jumped into bed to try and get a barely acceptable number of hours' sleep before Piglet woke up at the customary 06:30 with absolutely no regard for the concept of Bank Holidays or late nights (12:05 is a late night!).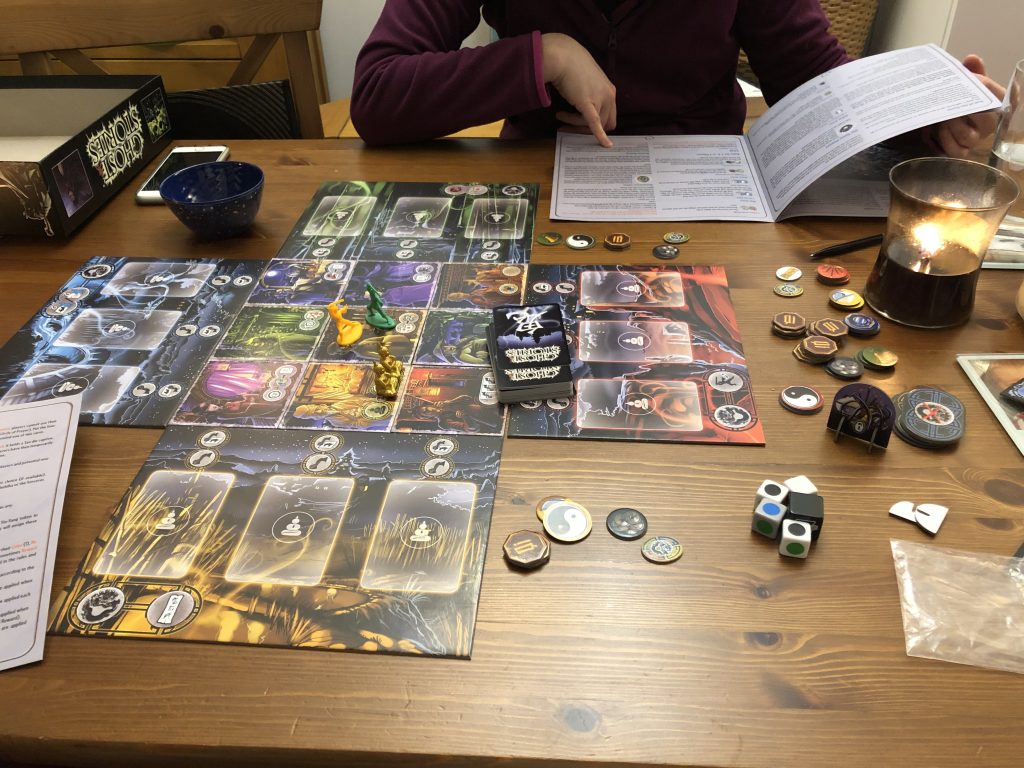 We did actually give Piglet his own version of seeing in the new year by cheating at 8pm with video footage of Sydney Harbour Bridge from earlier in the night. So he did see in midnight; just not in this time zone… Footage of the fireworks was one of the rare moments of screen time (we casted it on to the TV from YouTube) for Piglet this year.
New Year's Day saw an unusually sociable and semi-organised attempt at societal 'human'ing for us. We'd invited some friends from one of our big WhatsApp groups out for a walk in advance; chose a route sensible (or so we thought) for little ones and even booked a pub based on their allergy info (having never been before). It turned out to be a great idea, giving us structure, exercise, socialising and really quite delicious food!
We'd booked into the 'Old Post Office' in Wallingford, being pleased that we could book a table for 8 with relatively little notice. When we got there, it was actually a much bigger place than I'd realised with probably seating for up to 100 people. The place looks very nicely decorated with a fancy central bar and wooden decor (without looking like Government function room).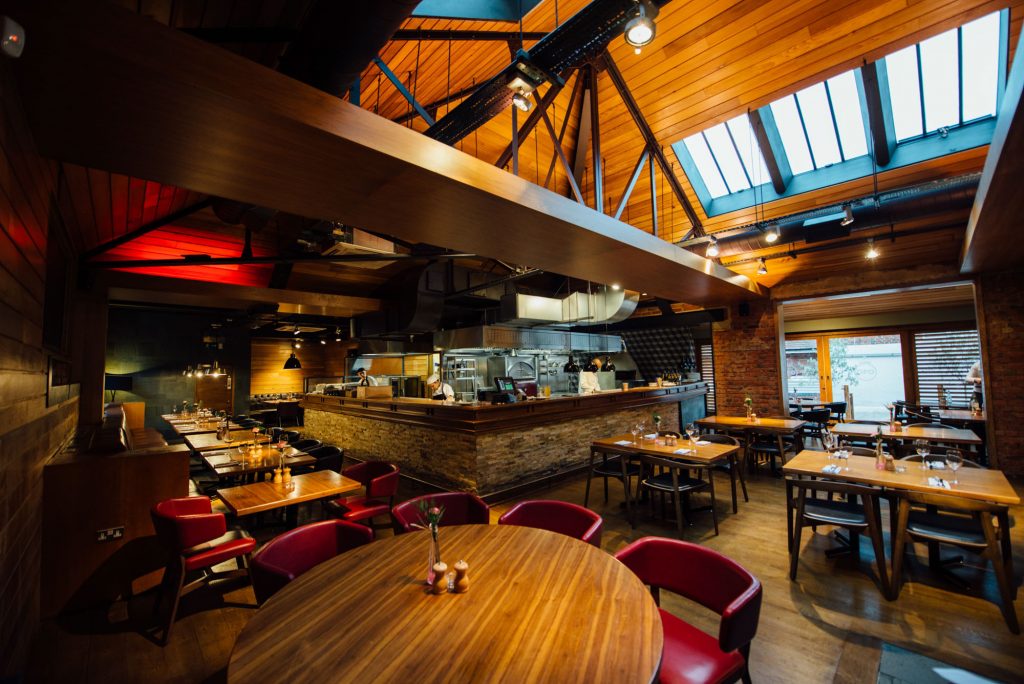 It's a funny small thing, and we'd have mentioned it anyway, but they made a point to ask whether we had any allergies before taking an orders. I don't think they were expecting the range of answers that we gave as a table but there was no element of eye-rolling. I was delighted to find out that I could have the fish and chips option and Piglet seemed pretty chuffed that his fish goujons looked like a miniature version of what daddy was having. My wife ordered grilled seabass which looked fantastic. The food was delicious; possibly because I was already really quite hungry but mostly, I'm sure, because it was just really well cooked.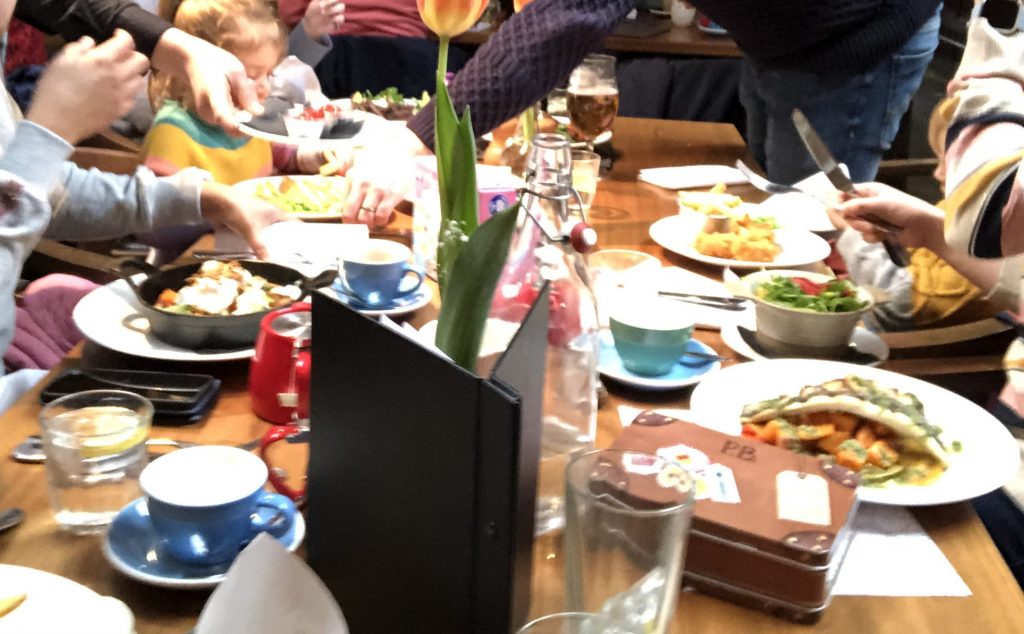 By the time we'd finished eating and nattering, we realised that if we were actually going to do any walking; we needed to head off soon to avoid walking in the dark. (It turns out that that day is fairly short by the 1st of January!). After delaying everyone unnecessarily by walking back to the car in the car park (twice), we were ready to go and set off on the pre-planned route.
Within about 100 meters of starting, we must have looked lost because a couple out walking a dog approached us all and asked if we needed help. Their suggestion, on telling them of our plan, was to give up and jump the fence into the next field. I thanked them for their advice and dutifully ignored it completely. About 50 meters further and I was starting to think that they may have been right but then we stumbled on the little (but very beautiful) path round the ruins of the castle we were planning to lap. Eventually we ended up by the river and the rest of the route was much more intuitive. That said, we did have a big of a hiccup at the furtheat point from the start when a sharp left turn on leaving the river took us right across a flooded field. Luckily it was only a few inches deep and everyone seemed to have suitable footwear to attempt a passing. A few screams and giggles and children lifted up in the air later we got to the stile on the far side of the field and hoped that we wouldn't have to come back.
Before we knew it, we were back at the starting spot and saying goodbye to our friends ready to head home. Piglet was happy and tired and snuggled into his car seat for the drive home (I was driving, not him, just to be clear). The beauty of foresight meant that we'd even put a slow cooker meal on a timer to get home to – one very fragrant Vietnamese roast chicken (my name for it – it's basically just a chicken in coconut milk with lemongrass and kaffir lime leaves. It's delicious!) The day was a wonderful way to kick off 2020.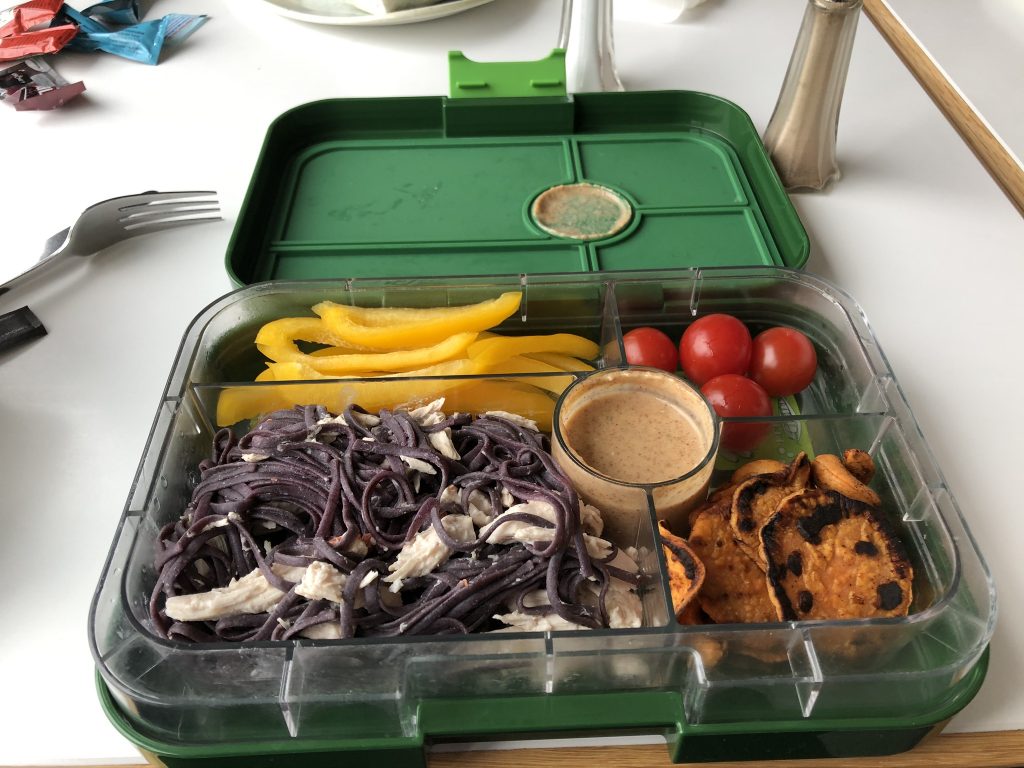 2020 looks to be an exciting year, laced with a few challenges, no doubt:
Piglet will start school in September; there's still some decisions to make here and it's proving an exciting but emotionally charged decision process – possible blog post to follow.
I should be starting a slightly different role at work as a result of the restructure. It's not a million miles away from what I've been doing for the last few months so it's not a fresh start but it will be interesting to start it long-term. I'll have to do much more networking and presenting than I do in my current role; so that could be interesting. I've already been given an opportunity to present some of my work to the Climate Change Committee and there's talk of presenting to Her Majesty's Treasury! So that's exciting.
My wife had her laparoscopy early in January and is recovering well. The surgery went reasonably well and it could increase our chances of conception, but again its not straight-forward (this is starting to sound like a checklist of future blog posts).
I am determined to start recording some more music (following on from our chart topping interpretation of Little Donkey). I got a microphone for my birthday (early Jan) and am determined to build up my confidence in recording myself singing on the back of last year's musical.
Without having made a list of New Year's resolutions as such, we've discussed the intention to do '250 hours outside' up from the aim of 150 last year. We've made pretty good progress already this year. Although from memory Jan last year was pretty good too.
I would like to keep up with the Allergen Dad posts too. It's been incredibly cathartic to write up my thoughts across 2019 and there are still many things I want to write about in 2020. Unfortunately the drive and availability comes in waves; rehearsals for Seussical The Musical took up a lot of my/our time towards the end of the year, last year. I'm very excited about doing future plays and Piglet is SUPER excited about doing anything with the group. He came to a play reading with me just the other week and sat with us reading a comedy all evening. By the end of the evening he was half-asleep in the lap of one the actresses who played Gertrude McFuzz (Horton the Elephant's eventual love interest), someone Piglet (and I) hadn't even met 4 months ago. I adore how at home he feels with the group. Future productions are likely to get in the way of how much time I get to spend on blog posts; but it looks like I might not get a chance to be in another one until Christmas at the earliest so that might be something to look forward to.
By the end of the year we'll have been in our house (our first house) for 5 years and we'll have a four year old child in school! It's crazy how quickly the world moves and how rapidly horizons broaden and roll on; concepts like enrolling a child into a school and negotiating new mortgages take the place of planning a social diary or worrying about a school coursework. If that's what the last 20 years have brought, who knows what dilemmas we'll face in the next 20. Well you, my lucky readers, will be the first to hear my convoluted (and heavily bracketed with sub-thoughts) thoughts as each bit arises. Have a wonderful 2020.
Toodlepips X